Canalys: Huawei triumphs as the best-selling smartphone company in Q2 2020
Update: We've added a statement from Huawei at the end of this article.
How's that for a plot twist? Despite its well-documented struggles in western markets, Huawei has managed to top the COVID-influenced Q2 2020 smartphone market. According to Canalys, Huawei shipped 55.8 million phones to Samsung's with 53.7 million.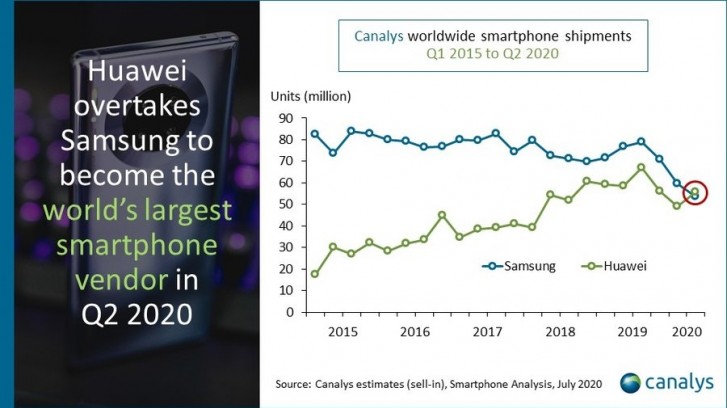 Huawei managed to extend its domination of the already recovering Chinese market and now accounts for over 70% of all shipped phones to mainland China. Meanwhile, Samsung's key markets were disrupted by the pandemic and its sales fell 30% on a yearly basis.
Ben Stanton, Senior Analyst at Canalys, said that "if it weren't for COVID-19, this remarkable result wouldn't have happened". Samsung has less than 1% market share in China where sales rebounded, while outbreaks ravaged core markets like Brazil, India, the US, and Europe.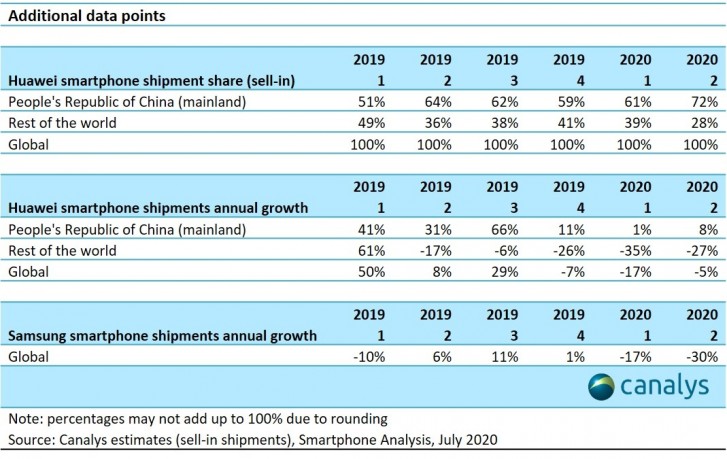 It's obviously a unique set of circumstances and it will be hard for Huawei to maintain its lead in the long term as international markets start to bounce back.
Canalys believes that other Chinese manufacturers can use the situation to their advantage and expand its presence in international markets. That will also help them make up for the ground they've lost to Huawei in China.
Statement by Huawei:
"Our business has demonstrated exceptional resilience in these difficult times. Amidst a period of unprecedented global economic slowdown and challenges, we've continued to grow and further our leadership position by providing innovative products and experience to consumers.
As we look towards the future, where 5G, AI and IoT will grow increasingly ubiquitous, our focus will remain on executing our All-scenario Seamless AI Life Strategy. Our technology – from smartphones, tablets through to PCs and wearables – is grounded in our commitment to consumers and fulfilling their needs."
?
Oh yeah also in china toyota is a symbol of status and BMW is for working class people. also in china rice is for the rich and caviar for the working class people Also in china CRT TVs are for the rich and OLED tvs for the working class. You...
M
Xiaomi market share in india is 30% while other share to vivo/samsung/realme/oppo/others roughly same. While Huawei share in China is 44% with higher price tag and xiaomi 19%. That difference in 25% alone in china (assume shipped phone is same in bot...
M
For sure it is china nationalism with such its big population. I know many Chinese people, most likely they nationalism is high (and smart too). Samsung need to carefully adjust its price since the leap of technology is not high, cycle of people chan...
ADVERTISEMENTS