Microsoft made its iconic personal assistant available on Android and iOS. The apps were released earlier today on both the Play Store and App Store and are available for free.
Cortana was exclusive on Windows OS until recently, but Microsoft is aiming to expand its reach over other platforms and has done a lot in the past few months. The company aggressively pushed its OneDrive and Office Suite (Word, Excel, PowerPoint, OneNote) - they are all available for free, no additional fees apply. Microsoft even managed to replace Dropbox in Samsung's latest flagship phones.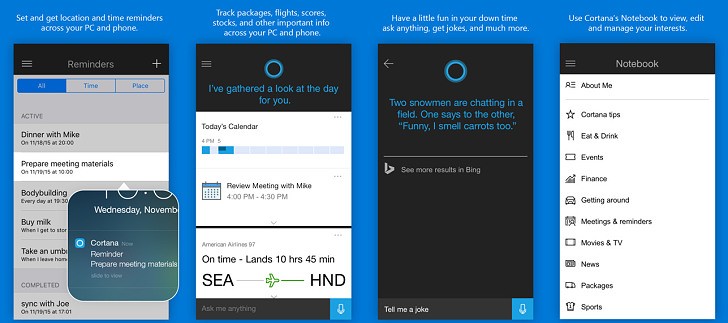 So, the next logical step was to release Cortana into other platforms and here it is. Currently it is available in USA and China, but Microsoft will be expanding the availability soon enough.
Cortana is a separate app and is a nice mixture between Siri and Google Now - it feels more personal at times and tracks your schedule and interest, provides updates and quickly answers relevant questions. You may want to give it a try.
Play Store • App Store • Via
D
I cant understand why all the WP users act so surprised. Windows wants to make profit, like everybody else does, they are not a charity organisation. If they can make money with something they will sell it to whoever wants to pay for it.
D
Used for a while on windows phone , recognition is much faster and accurate than either Now or Siri , on Android Cortana is way too slow and not as integrated as Google now
D
see my previous comment
ADVERTISEMENTS