The Apple iPhone X has been on sale for ten months now and in that time it has surpassed 60 million commutative shipments.
In contrast, it took the iPhone 6 just six months to amass 60 million shipments and in ten months, it had already shipped 90 million units.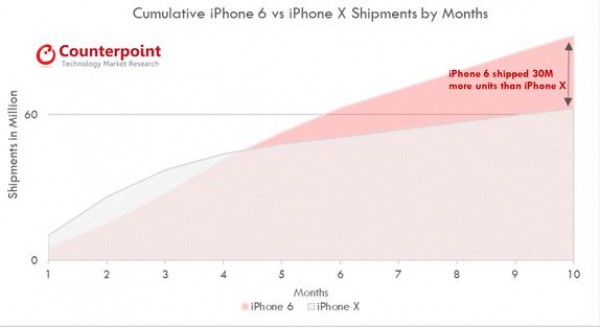 However, thanks to its higher price, in the first ten months after its launch, the iPhone X has accumulated almost the same $62B revenue as the iPhone 6 in its first ten months.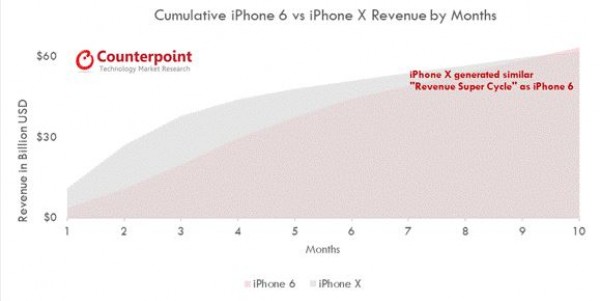 Interestingly, according to Counterpoint's data, the iPhone X accounted for more revenue alone, than each of Huawei, Oppo, vivo and Xiaomi's shipments in the past ten months.
Strong iPhone X sales were seen in the USA and China where more than half of all iPhone X were shipped. In comparison, India contributed just 1% of the overall number.
The iPhone X supplied just one third of all iPhone shipments in the last ten months, but accounts for half of all iPhone revenue in the same period.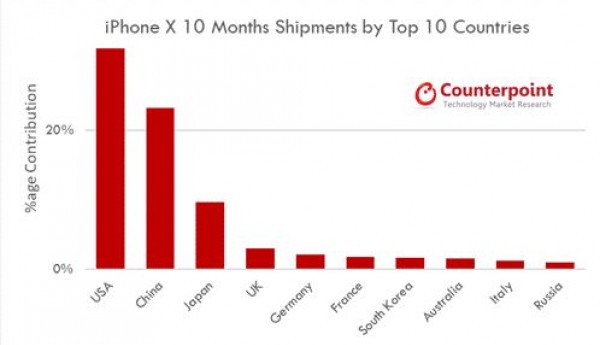 Counterpoint expects Apple's refreshed line of iPhones (coming today) to drive revenues further going forward thanks to the introduction of a cheaper LCD version and two high-priced OLED models.
w
imagine the people who bought the iPhone X in the last month, so screwed hahah. on the other hand, there is no noticeable difference between XS and X (i mean looks)..
Tim Cook and his apple dogs are fukin old buzzzards, they stopped production on their most sold phone Apple X. Nobody will buy new Iphones with that ugly specs compared to prices.
J
60m shipments is less than one. I think it should be 60M shipments.