There is definitely something special about the Galaxy S7. It isn't often that a phone is sold for discounts and promotions not even a month after its original release. Let's not forget the buy-one-get-one free promotion that all major US Carriers have been participating in.
But this is a different promotion, the international factory unlocked version (SM-G930F) of the Galaxy S7 can be purchased directly from Newegg for only $600. This is a phone whose retail price is well above Apple's introductory flagship price of $650 (for 16 measly GB) and a phone of which has only been released last month.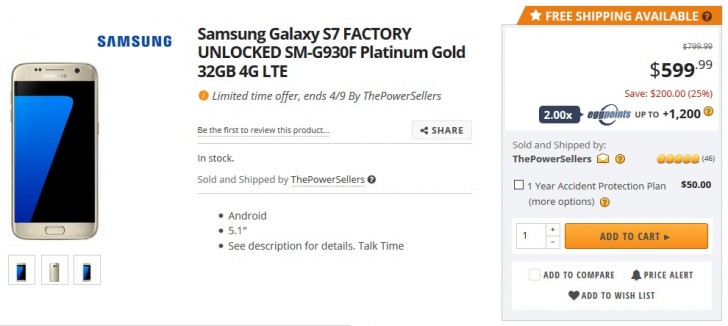 Just so you know, this deal looks to be fulfilled by a third party and not directly from Newegg. ThePowerSellers are holding this limited time offer until April 9. In case you are wondering, $600 gets you a new, factory unlocked Galaxy S7, powered by the Exynos processor, which some might consider seeing as the Snapdragon 820 version reported slightly lower scores in performance and battery life (or if you plan to take it overseas).
The Galaxy S7 is available on Newegg's website in either black or gold with optional 1 year accidental protection provided by AIG insurance. For what it's worth, Newegg also has the Titanium Silver color, but it is $650 as opposed to $600.
Source (Black Onyx, Platinum Gold)
S
Why does it say, Technology as 3G ? Is it a scam?
M
i think that people should expect to see deals this early after release for samsung flagships as is the tradition since galaxy s5 to note 4 to s6 to note 5 to s7... And always buy last year's version for the ultimate deal as a new s6 flagship could b...
D
Apple is good if you don't like expandable memory and don't like software change