First in the UK, now in mainland Europe too – the dual-SIM version of the Samsung Galaxy S8+ is now on sale.
Note that this is a hybrid slot – the second card can be either a nanoSIM or a microSD, but you can't both expand storage and add a second phone line.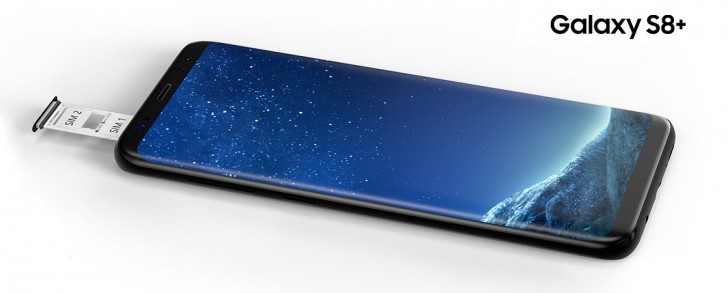 In Germany, it will cost you €900 and is available in Midnight Black and Orchid Grey. You get a free wireless charging station (valued at €80) to offset some of the premium. It's the same price in Austria, though without the wireless charger. In Spain, it's €910 and, again, no charger. That's still better than Italians, who have to pay €950!
Those are all the EU stores we confirmed are offering the Galaxy S8+ Dual SIM, but others could join soon. The smaller S8 didn't get a dual-SIM version.
G
This kind of slot where you have to choose either a second SIM card or sd card sucks big time.
G
Thats only in Europe & U.S i am assuming. I reside in INDIA and own S8. It has hybrid slot. Even the S8+ in INDIA was directly introduced in dual sim version. We dont have single sim version at all here.
Needless to say that obviously it is better to have the slots all dedicated, but at least a hybrid is always better than just single one (two slots each one single), so let's say it's better, at least . And it is "interesting" that Samsung opted to m...