Samsung's next expected flagship device - the alleged Galaxy S6 has been generating a lot of buzz in the rumor mill. But besides the usual talk of more RAM, a better camera and whether it will be water resistant or not there is also another exciting rumor floating around, namely that the device might be available is a variant with a curved screen.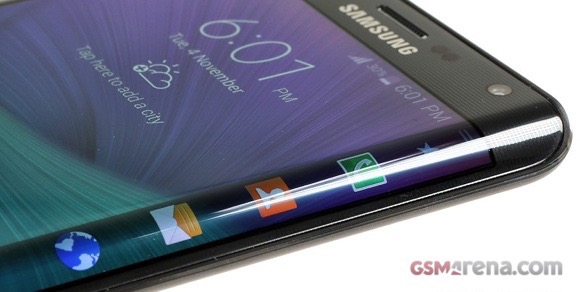 This is an exciting thought and it seems to be inching closer and closer to becoming a reality. One of our readers tipped us off that the source code of a certain product page on Vodafone.nl holds a comment carelessly left behind by a developer, that hints of an upcoming preorder for something dubbed the "Galaxy S Edge".
If might just indicate that Samsung has decided to go with the same naming scheme as its first edged device - the Galaxy Note Edge and drop the number from the title. Even if we trust Vodafone's anonymous developer on the preorder set to happen this still tells is little about the device itself and there is a lot that needs clarification.
To mention some of the chaos and confusion surrounding the Galaxy S Edge, it is still unclear whether its screen will be curved on just one side, like the Note Edge or it will extend downward on both sides. Rumors, however go beyond and state that the device not only exists, but a testing unit has made it to India for R&D purposes.
In any case Samsung is still to confirm anything regarding the mythical Galaxy S Edge. Hopefully we will know more pretty soon, but seeing how MWC 2015 is just around the corner we might have a month or so of waiting if Samsung decides to hold up until the big venue.
Thank you for the tip Michel
d
doesnt matter whether people can purchase it or not .. given option to go for note or note edge , absolute majority will prefer note.. again given chance people will pick iPhone 6 plus than note
?
I used the note 4 edge yesterday. It is nice. However without IP 68 protection as standard it is not worth it. Dual SIM should be incorporated
p
Note edge isn't doing gray because they have two options. Note 4. & note edge. Most people use one device & most people prefer the a version they're comfortable with. That's why. The edge is cool. I'd consider a galaxy s edge but I'd be worri...