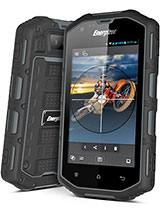 ?
I thought I was the only one with that phone similar problem in less then a month the phone wasn't coming on anymore! Were your problems resolved?
J
According to comments I realized its not a good phone
* Looks like a amazing phone -4 stars
* on box it indicates 1.3 GB ram but on further explore its a 512mb ram that ain't not good at all -1star
*internal memory 8gb also not good if it was 16gb I would have given 2stars but for 8gb only -1star
r
After 10 months of operation (telephony only, not internet), the phone does not turn on again by pressing the side key ... can not make a call if it is not connected to mains to regain control! no firmware
2 months of call to the SAV .. Who transmits ... And nothing happens
r
Hi,

i have a problem with my energizer 400 he is now bricked.

In fact all the problems started with a virus in the phone …. i try to root for ininstall the malicious app … and after one reset the virus was always here but no root and impossible to root … after i loose the settings apps and impossible to restart all the phone … so i try to flash the rom with SPFlash TOOL V5 with jeep Z6 Rom phone with the same pecs …. and Brick !

So Please i need a ROM for ENERGIZER 400 Phone : MTK 6572 ( 1,3 GHZ X2) Mali 400 4.4.2 android 8mp camera

how i can save the phone please

thank's

Reply
J
I bought a 400 on Sunday brand new. The sound is horribly bad and the battery last 8 hours
p
The battery life is amazing. You can use this with heavy use for 2 days without recharging. If it's battery gets low to 1% , don't panic. It'll hold for about 6 hours even with wifi on.
c
Very good for rough use. But otherwise it is just a basic android phone. It cannot perform smooth performance because of the 512Mb ram. It has a small screen and little hard to read texts on the main menu icons. Also this is a very heavy phone, you can hit a man on his face with this and he'll start bleeding.
I didn't try to check it's shock-proof or water-proof ability. But I'm pretty sure it can defend against anything. The whole casing made with rubber, so it has a strong grip also.
J
This is very good mobile, as a sri Lankan,I haven't facility of GPS,function on it.y it is not properly works in Asian countries,so that this mobile not fulloptionable to me,suddenly it is turn of when it goes over heating level,otherwise this good 4 hard use
D
Better than the 240 100 and 200 bit worse than Energy 500 yess more megapixels than any other Energy 200 100 240 and runs Android. 4.5 Stars
G
As of 20/1/17 my phone is under investigation as it appears to contain preinstalled malware from ADUPS in China. If you have one of these my advice is to check it out carefully. Google Adups malware BLU phones.
M
Re branded phone. Sold as Hummer H5 on Chinese web shops for $100
Total of 11 user reviews and opinions for Energizer Energy 400.
ADVERTISEMENTS