Halide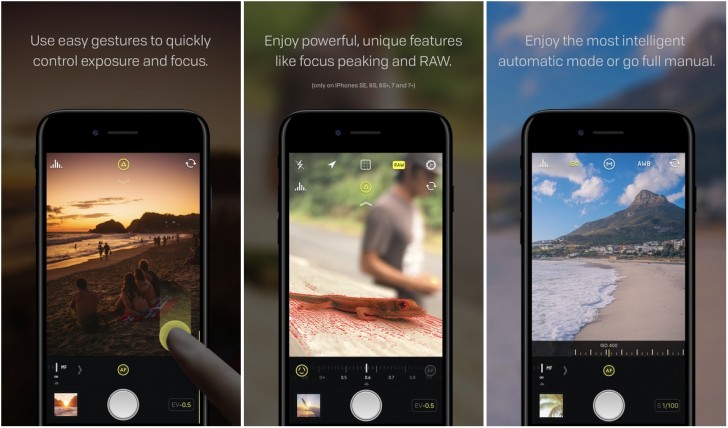 You can't have a great photography experience without first having a great camera app and the default Camera app on iOS is just not good enough. While there are many great camera apps available for iOS, Halide is one of my favorites, as it combines all the essential features in a simple and easy to use design.
With Halide, you get all the basics, such as exposure compensation, manual focus with focus peaking, ISO, white balance, live histogram and RAW capture. There is also a 3x3 grid, with level meter for vertical and horizontal orientation. What I also like about the app is that on the 7 Plus you can choose which lens to shoot from. When you select 2x zoom, the camera switches to the other lens in any lighting condition unlike the main iOS Camera app, which will only use the telephoto lens in bright light.
Overall, there is not much to complain about here, and this is easily one of the best camera apps you can get for your iPhone.
Snapseed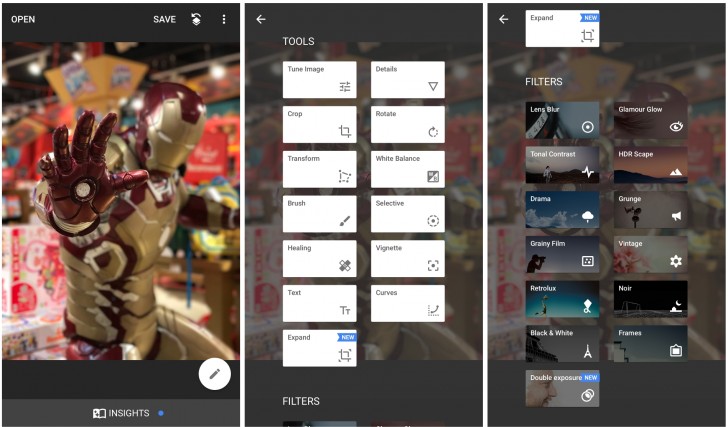 A criminally underappreciated app, Snapseed is a tremendously capable image editor. From a wide range of image editing options available with extremely easy to use interface, the app is easy enough for novices to learn and powerful enough for experts to appreciate. There is also RAW image editor built-in, which not only works with the RAW images from built-in camera but also from popular DSLR cameras. There is just so much to love here and listing all its features can take all day. All I can say is that if I had to choose just one image editor to have on my phone, it would be Snapseed.
VSCO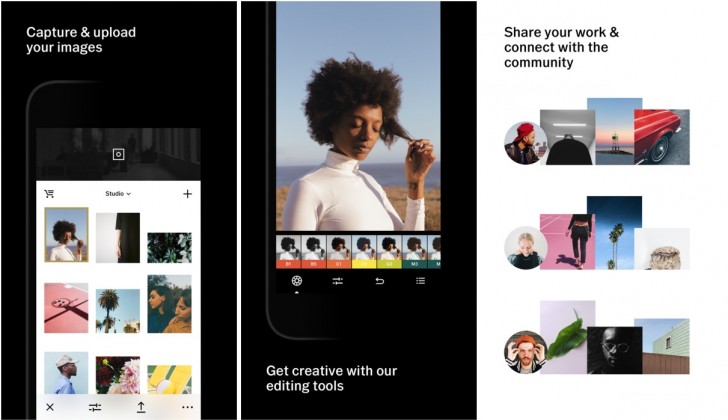 VSCO's strength lies in the spectacular quality of filters available on offer. While filter apps are a dime a dozen these days, most of them feature absurd color combinations that no one with a working pair of eyes would want to use. VSCO, however, has expertly selected, highly professional looking set of filters. Admittedly, very few are actually bundled with the free app but if you spend some time in its built-in store, you will come away with a handful of sets with some really classy and elegant looking filters that can lift any well shot image to a whole new level. My only complain with the app is set of inexplicable icons strewn throughout the UI that make it hard to figure out at first but is easy enough once you get used to it.
Retouch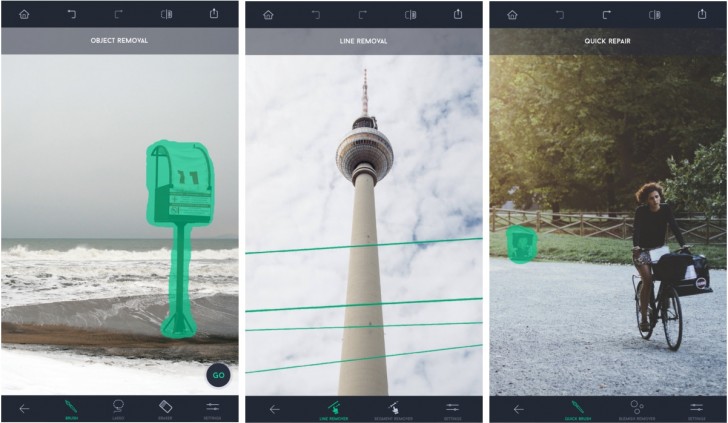 We have all taken photos that have annoying electric or telephone lines going across the sky, or some distracting object in the frame. Retouch exists just to deal with that. It's incredibly clever algorithm lets you find these objects and remove them with one touch. Line removal is particularly impressive; just enable the feature and tap once on a line in the image and the app will automatically track the length of the wire and remove the entire thing without you having to drag your finger across it. It's not 100% effective all the time but when it works, which is most of the time, it works astonishingly well.
SKRWT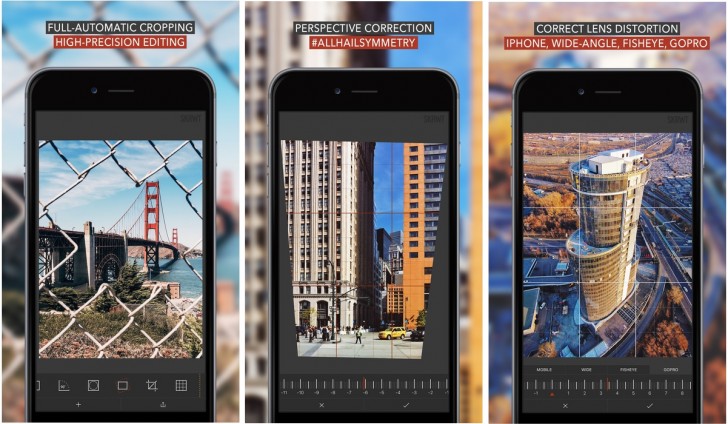 Good composition is one of the pillars of a great picture. However, it's not always possible to frame the shot perfectly while shooting the image. This is where SKRWT comes in. Once you take the image, the app will let you skew the perspective of the image so you can align it whichever way you want. Notice a slight tilt or skew in your image, let the app automatically correct it for you or choose to do it manually. The app also has a powerful cropping feature that auto crops images for the best look, and lens correction to remove lens distortion in images. The app also lets you mirror images and create unique compositions with perfect reflections for a symmetric image. If you like to tinker around with the composition of the image before publishing, there is a lot to like here.
Over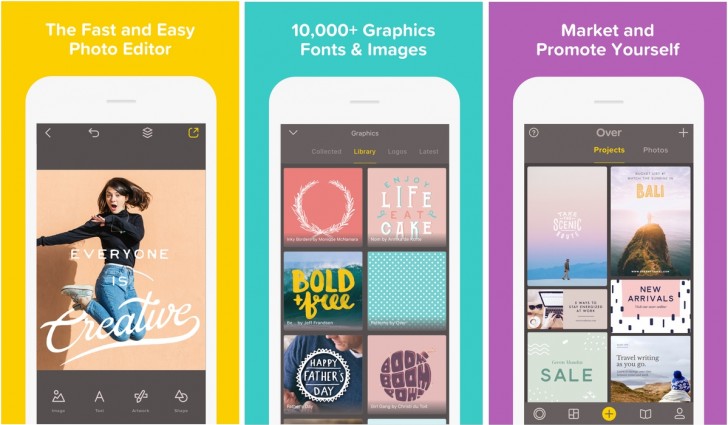 If you've ever wanted to have a custom message written across an image, Over is the app for you. The app features dozens upon dozens of custom fonts and style selections to get just the look you want for your text. With layers functionality you can get a bit creative. The app also has handy cropping options with presets like Facebook and Twitter cover images. It's worth noting that the free version is basically barren and you will have to pay for all the options but if text overlay is your thing and if you like creating posters, greeting cards, event invites, presentations or background wallpapers and such then there is no better app for this.
Annotate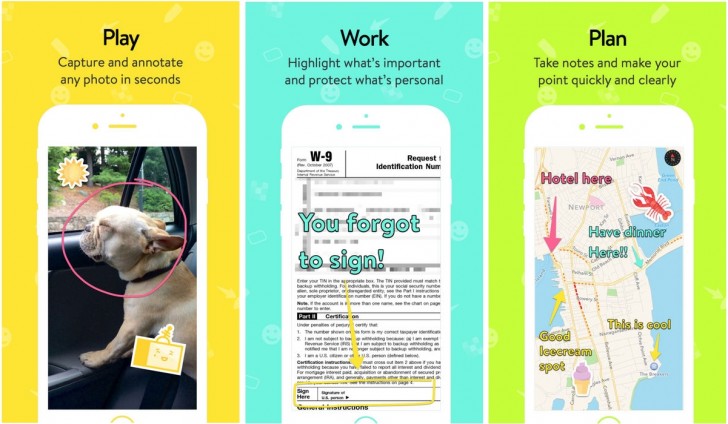 Annotations are a handy way to markup images to bring attention to something or obscure something in an image. Annotate is a simple markup app that lets you quickly add arrows or draw a shape or write text on images. You can also insert one of the preset emoji or quickly pixelate a portion of the image.
Instagram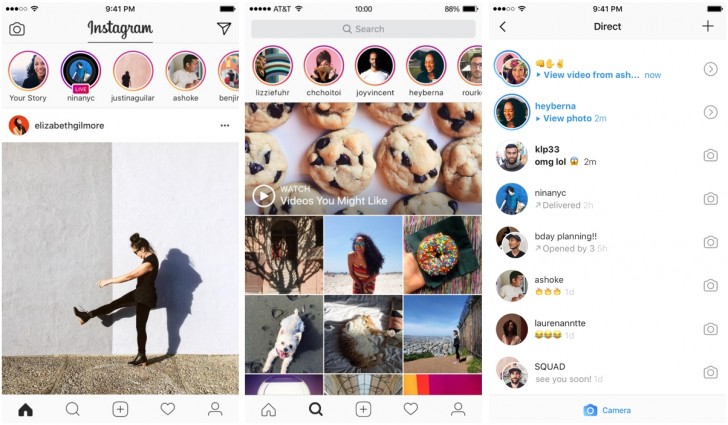 Now you have ways of capturing and editing great photos. So why not share them somewhere? Instagram may have a reputation for being the biggest food photo gallery on the internet, but if you are smart about it, it's really one of the best online communities right now for uploading and sharing images.
Practically every talented photographer is there right now and there is an insane amount of content available for inspiration and learning. If you already have an account for your family and friends, make a separate one where you just follow all the popular photographers and just see what they are up to and where photography is headed these days. Use that knowledge to channel into your own photos and maintain a sick gallery of images where you only upload the best of the best photos, no fluff. After that, watch as you gain your own following of photography enthusiasts.
In the end, photos are really for sharing and Instagram is probably the best place to do that right now.
.
Do not pay $2.99 for Cortex Camera. I have just downloaded the app in my iPhone 7+ and spend 20 minutes changing configurations to get best photo. None of the photos whether it is 10 stacked or 99 stacked all came out worse than if you simply turn on...
D
Manual cameras on Android are really bad and don't work that well. I used Android for 9 years and for each phone that I have used there were issues in manual cameras, except for LG's really good stock camera app. The ok ones are Snap Camera and ProSh...
D
I have the iPhone 7 and the image quality is garbage in the stock camera app. Everytime I preview a pic that I have taken and zoom in to between 70 and 100% I want to change my phone to the Pixel lol (I had the Pixel and sold it in favor of iOS, to t...