Samsung has yet to announces MSRP for its four new tablets – the Galaxy Note Pro 12.2 and the three Galaxy Tab Pros – but European retailers are happy to provide their own prices. Your wallet better sit down for this. Keep in mind we think these are blown up (it's something retailers do before the product is actually available, to drum up some attention).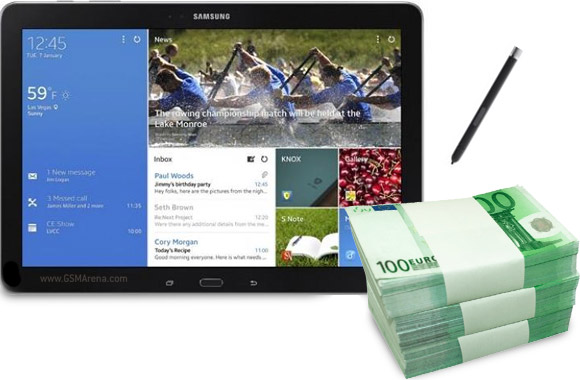 Anyway, the flagship model, the Samsung Galaxy Note Pro 12.2 costs either €999 or €1099, depending on the chipset. Both have 32GB storage, but the cheaper one is Wi-Fi only and is powered by an Exynos 5 Octa chipset, while the other switches to Snapdragon 800 and enables LTE. On-contract prices for the LTE model go down to €660.
The situation with the Galaxy Tab Pro 12.2 is similar – the base Wi-Fi only model (Exynos 5 Octa 5420) costs €900, while the LTE model (Snapdragon 800) is €100 extra. On-contract prices for that one start at €560. All Pro 12.2 slates have 32GB storage.
The standard-sized Galaxy Tab Pro 10.1 packs 16GB storage and is priced €800 for the Exynos/Wi-Fi model and €900 for the Snapdragon/LTE model, which is €460 on contract.
Finally, the smallest tablet of the bunch, the Galaxy Tab Pro 8.4 (also with 16GB storage) starts at €700 for Exynos/Wi-Fi, €800 for Snapdragon/LTE and €360 on contract.
Note that we expect those prices to drop when the tablets become available. Also, SamMobile tweeted lower prices for all tablets, but didn't reveal its sources. According to the site, the Galaxy Note Pro 12.2 will be €850 for the LTE model, and others will be similarly cheaper going down to €390 for the Wi-Fi Galaxy Tab Pro 8.4.
Check out our hands-on from CES for more info on the tablets.
?
Nice try...But if you want to fanvoy troll then try how most phones in the world copy Samsung. HD playback and recording is a Samsung first. Look at the Phablet boom after the Note. Why was almost every generation of Iphone SoC almost identical...
D
I guess when Scamsung copies something it really goes all the way. They even copy the attitude towards the customers. I hope they get burned really hard, because this is not the first time they've done this (SGS3mini, SGS4mini, ...).