Fortnite demoed on Samsung Galaxy S9+ ahead of Galaxy Note9 announcement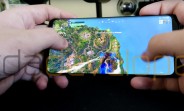 Samsung has teamed up with Epic Games to deliver the popular battle royal game Fortnite to the Galaxy Note9 exclusively for 30 days, so naturally it has been sideloaded to run on other devices.
In a collaborative effort from XDA members thesbros, Quinny899 and Max Weinbach the Fortnite Android APK was installed and played on a Samsung Galaxy S9+.
The game doesn't seem to run on rooted devices (so as to safeguard against cheating) although the XDA team managed to make the game run on both a rooted Essential Phone and a rooted Google Pixel 2 XL.
Fortnite will be a Samsung Galaxy Note9 (and possibly Galaxy Tab S4) exclusive for 30 days after the Galaxy Note9 launches. But the game could end up being a Galaxy Apps exclusive for up to 3 months after that first one.
When Samsung's hegemony ends, supported device owners will need to download the APK from Epic Games' website and sideload it onto their devices, as it won't be available on Google Play.
K
Its more of a gamble for Samsung rather than Epic, Epic is not gonna lose anything doing this, Samsung however is most likely just raising awareness that they are in association with the Fortnite brand, trying to get eyes on their product through For...
K
Real challenges, oh please... Try hitting a target that can create cover and also hits back... PubG doesn't require the amount of skill that is used on Fortnite, PubG is hide and seek with guns.