A leaflet that was distributed to journalists at the start of this year's CES which suggests that Fujitsu might have a real beast in store for us. According to it the Japanese will have a new Ultra High-spec Android smartphone with the quad-core Tegra 3 chip inside at their booth.
The smartphone, which runs Android 4.0 Ice Cream Sandwich, is yet to be announced, but we guess that will happen in the following few days.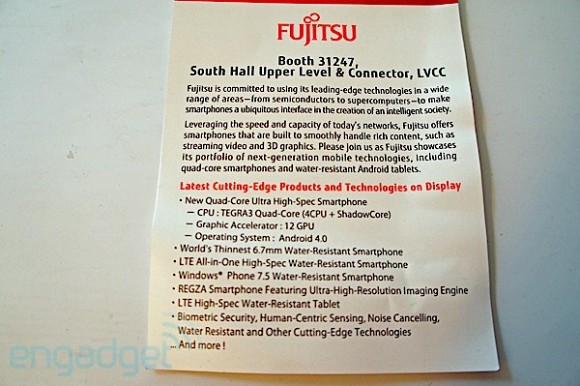 Fujitsu have also got in store the world's thinnest water-resistant smartphone at 6.7mm, a water-resistant Windows Phone smartphone, an LTE water-resistant tablet and smartphone, and more.
We'll eagerly await more information on the matter and will report as soon as something breaks loose. We're certainly going to be keeping an eye on the Fujitsu booth tomorrow, that's for sure.
M
I can't wait for Sharp and the others to come with their fantastic smart phones. :)
l
Guys Japanese is tsunami is coming everywhere... Sony then Panasonic but don't forget Fujitsu, Sharp and NEC... They're coming coming our way... The real battle is coming.. Then heavy Japanese mobile technology will be out of their hom...
a
the way of the Japs!!they were the 1st on to incorporate a submarine aircraft carrier during WWII now, QuadCore Phone.. what's next? Gundam? Can't wait to wake up tomorrow XD
ADVERTISEMENTS