Galaxy S8's latest firmware update enables Super Slow Motion capture
Samsung's latest security update for September 2018 includes a new camera feature for Samsung Galaxy S8 devices. Super Slow Motion is mentioned in the OTA's changelog as well as Google's monthly security patches.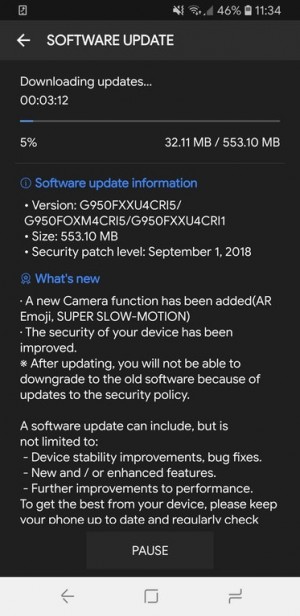 Source: Reddit
In addition to Super Slow Motion, the S8 and S8+ will also get the AR Emoji enabled in the camera app, as per the changelog. While the Galaxy S9, S9+, and Note9 can all do 960 fps at 720p resolution for up to 0.4 seconds, the updated Galaxy S8, S8+, and Note8 will get half the frames at 480fps at 720p resolution at either 0.2s or 0.4s.
We saw the same update hit the Note8 last week and it looks like we're seeing the other 2017 flagships get the new camera feature as well.
The update so far has mostly been spotted arriving to European Exynos models with an OTA size of about 553 MB. Meanwhile, it has been mentioned on a Reddit thread that at least one Sprint unit in the US has received the update. Let us know if you've received the September update with Super Slow Motion and let us know which model and variant you are using.
a
still no update came in india
I
Same here, really annoyed with the way Samsung handle these updates, and then A series gets better treatment than S series sometimes, we pay premium and end up waiting for nothing
d
still no update on s8+ from uk