Gionee to start manufacturing devices in India with Foxconn and Dixon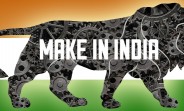 Gionee has announced that it will be partnering with Foxconn and Dixon to start manufacturing devices in India. The company will be investing $50 million in the next three years for this venture.
The Foxconn facility in Andhra Pradesh will be handling the manufacturing of the F and P series smartphones initially while the Dixon facility in Delhi-NCR will take care of the feature phones and other smartphones. Both have the capacity of producing 1.2 million handsets per month and will begin production in October.
Gionee has also stated that it will be increasing investment in the R&D team in India, which handles the software division, to make it more more suitable for Indian customers.
Speaking on the matter, Gionee India Country CEO & MD, Arvind Vohra said, "Make in India as an initiative gives an opportunity to not only take Gionee as brand ahead but also to be actively able to participate in the growth of our economy through various touch points. We are happy to have partnered with the best in business including Foxconn and Dixon and sure that this step will prove to be instrumental in the brands future."
William Lu, President Gionee added, "India market is second home market to Gionee after China and the investment in India manufacturing is just another step in a line up of much more to come for the Indian market and customers."
?
It should prove cheaper retail prices of phones sold by Gionee in Indian markets if customers are to locally purchase their products in India. When Chinese makers does the same if bought locally in China and skyrockets international prices of the sa...
g
Why india? I think PHILIPPINES has a lot to offer.
D
What more jobs? India is the only country that treats anything beyond textbook muggers as laborers. Developers, Scientist, Creatives, Architects, Researchers are treated like laborers while people with certificates from part time courses are treated...