On the eve of Android P's announcement, Google has announced the best apps and games of the year.
For the first time, the Google Play Awards don't have one outright winner but instead are divided into nine categories.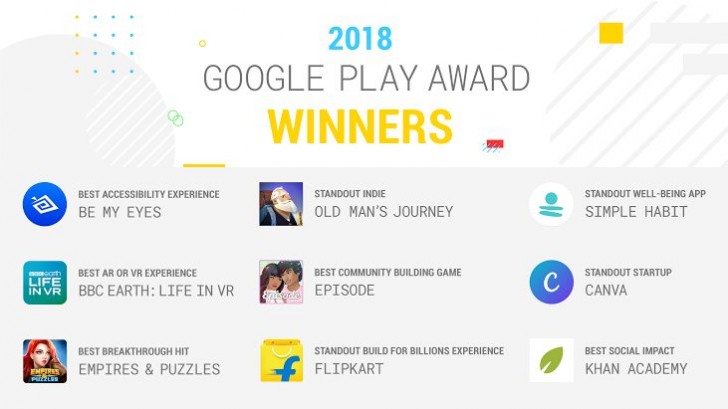 The nominees were announced late last month and have been judged by Google employees in that time. All apps follow the Android vitals guidelines and have either launched or had a major update since April 2017.
Standout Well-Being App
Apps empowering people to live the best version of their lives, while demonstrating responsible design and engagement strategies.
Best Accessibility Experience
Apps or games enabling device interaction that serves people with disabilities or special needs.
Best Social Impact
Apps or games that create a positive impact in communities around the world (focused on health, education, crisis response, refugees, financial health and fundraising functions).
Standout Indie
Games from indie developers that focus on artistic design, gameplay mechanics and overall polish.
Best Community Building Game
Games built to connect gamers, encouraging social interaction and community building.
Best AR or VR Experience
Apps or games offering highly engaging and immersive experiences with optimal use of ARCore or Daydream UI.
Standout Build for Billions Experience
Apps or games with optimized performance, localization and culturalization for emerging markets.
Standout Startup
Apps from new developers that offer a unique experience while achieving strong organic install growth.
Best Breakthrough Hit
New apps or games with excellent overall design, user experience, engagement and retention, and strong organic install growth.
e
Wow Amazing Article. Thanks for sharing us this knowledge. Your Article is really helpful for me. Thank you so much
?
I didn't even notice these apps on editor's choice nor top charts at Google play