Everybody loves sci-fi technology, but it's awesome to see it happen for real. That's the case with the new Google Translate for Android, which is on the verge of breaking the language barrier and change our world forever.
Ok, the case is surely exaggerated, but imagine a world where everyone speaks its native language and the others understand him perfectly (Farscape fans sigh here). This is not what the current Google Translate does, but it's the first step to that technology, so it's important.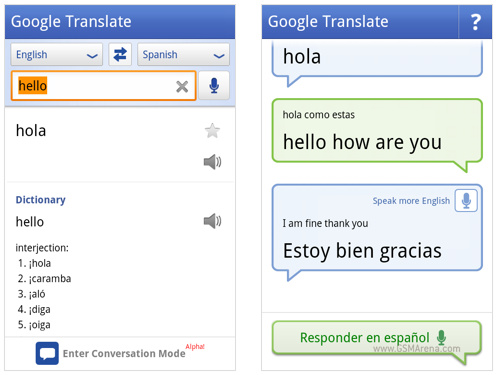 The latest version of Google Translate for Android includes the experimental Conversation Mode, which currently works only between English and Spanish. You hit the English microphone icon and speak, then your words are translated and spoken in Spanish (or vice versa).
Google Translate has a new look too, but we're sure the most interesting part will be the Conversation Mode. In a previous demonstration, Google showed it working between English and German, so we guess other language updates will follow soon.
The updated app is available for Android 2.1 and above devices and you can get it from the Market right away.
s
Awful lot of flames going on here regarding symbian an android, my personal experience is this. Having used a Nokia 5800 for about a year I decided I was due an upgrade and was very tempted with the n8 as being used to the OS and always seen andro...
s
imagine it translates wrong stuff....cud b an rofl situation in a foreign land :D
?
Its always better than your ovi crap lol lol.
ADVERTISEMENTS