As originally promised, the Google Play editions of the Samsung Galaxy S4 and the HTC One have gone on sale today. Both top-shelf smartphones, running stock Android can be ordered from the Google Play Store in the United States.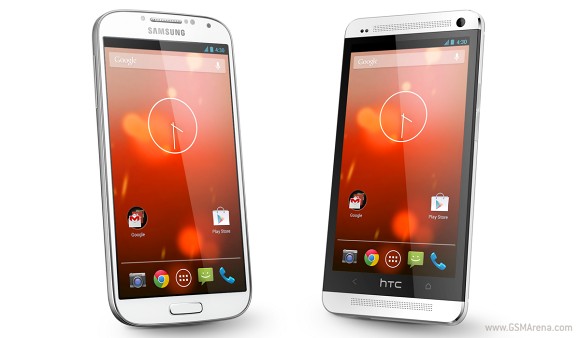 The Pure Google Samsung Galaxy S4 is priced at $649. HTC One on the other hand, is slightly cheaper at $599. Both devices are offered with free delivery. The scheduled shipping date for either of the two devices is on or before July 9.
The stock Android editions of the HTC One and the Samsung Galaxy S4 are bound to attract their fair share of Google purists, who aren't keen on living with some of the limitations the Nexus 4 has. Considering the difference in the pricing however, it is fair to think that the sales of the Nexus 4 are not likely to take a hit.
?
wn will it come to india? how to buy it?
D
Try Nova Launcher or other launcher from Google play.
?
Wow, power button on top so "beware"? No home button? Looks like it has one to me. Do you work for Samsung or are you 12?
ADVERTISEMENTS