Google now lets Outlook.com and Yahoo Mail users 'Gmailify' their inbox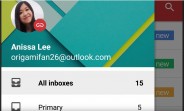 Google has rolled out a new feature - dubbed Gmailify - that allows users of non-Gmail accounts, including Yahoo Mail and Hotmail/Outlook.com, to access some of the Gmail's best features.
"Gmailify links your existing account to Gmail so that you get all the bells and whistles—spam protection, inbox organization and even Google Now cards based on your mail—without having to leave your current address behind," the Mountain View, California-based company said in a blog post.
To use the new feature, just open the Gmail app, sign in to your non-Gmail email account, and enable Gmailify (head to the Source 2 link below for more details on how to do it). Should you change your mind, you can also unlink your address from Gmail.
l
fair enough, I guess it is not suitable for everyone then after all. Thanks for the reply.
a
So boring gmail i enjoy outlook on win 10m alot more so easy try