Google has made it much easier for folks to find photos that are saved on the device, which was always a nightmare for those who were switching to a smartphone that no longer came with a proper "Gallery" app, but instead relied on Google's Photos app.
In Google Photos 2.8, the 'Device folders' option makes itself more visible by moving from the burger menu to the 'Albums' tab and gets a slightly different name: 'Photos on device'. In addition to being able to see photo albums from your Google Photos account, you'll be able to scroll to the left to see photos saved internally. The actual 'Photos on device' screen also looks a bit different, more like a traditional gallery, rather than displaying six photos of each folder.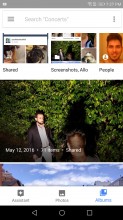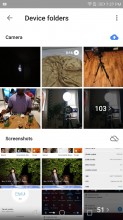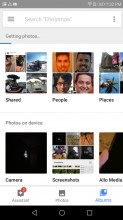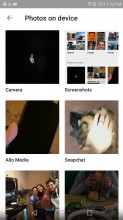 Photos: Albums view (2.7) • Device folders (2.7) • Albums view (2.8) • Photos on device (2.8)
In the past, If you wanted to see (for instance) a screenshot that you took a couple of weeks ago, you would need to tap the burger menu, and tap 'Device folders'. It's easy for a seasoned smartphone user to poke around and find the menu, but not for those folks who aren't particularly inclined to welcome changes in their user interface.
?
In ios devices it is showing 2.8 version but the feature is missing. Google please update the ios application also. If anyone have got the feature, let me know the process, How can we see device photograhs in google photos.
J
I would like her call pictures and video text messages sent to my new divisi
D
Who should we trust? I view Google as having some of the most private information on this plannet. I heard Trump uses Gmail. I view Google as the place I most trust of providers. They are going to do everything they can to protect my informati...