We spend most of our workdays searching for phones that match various requirements – and since you're reading GSMArena we guess you do too! To that end we've updated our Phone and Tablet finder tool to make it both easier to use and more powerful.
The lines between "phone" and "tablet" have blurred but we split them into two tabs - for anything under 7" stay at the Phones tab and go to the Tablets tab for anything 7" and over. Both tabs offer more or less the same controls, except they are adjusted to more appropriate values (a 3.5" screen makes sense for a phone, but not for a tablet).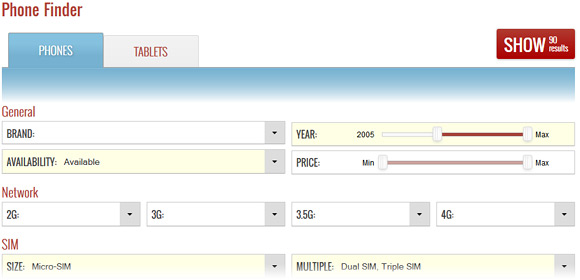 Then there are 13 categories you can use to refine your search. Keep an eye on the Show button, it will display the number of results so you can keep narrowing the search until you hit a manageable number of results. Note that the actual results page will only show the 70 most popular results – you wouldn't want to wade through more results manually, anyway.
Categories range from basic detail like availability and price to exotic features like humidity sensors. You can set minimum and maximum values for numerical features (e.g. camera resolution, CPU clock speed, battery capacity), everything else is based on checkboxes where you tick the desired features.
Some checkboxes are grouped into dropdowns. Note that some features are mutually exclusive (you either want a touchscreen or you don't) while others let you pick multiple options. Selecting multiple options means you're okay with either one of them (e.g. both AMOLED and IPS will do). A notable exception here is the Network category, there every checked frequency band is required.

There are two more fields that are plain text – Color and Free text. There are no preset values there to allow for extra freedom. You can for example search for an "arctic" color for a pale, blue-ish color. Or you can enter "Krait 400" in the Free text field, in case you want a quad-core processor with a specific core design.
Once the number of results drops to a manageable level of results hit Enter or the Show button to view the results. If you're not happy with them, click the "refine your search" link to go back and adjust the parameters.
If you find any issues with the new and improved Phone finder, drop us a line in the comments and make sure to include details about what broke and what browser you're using.
Z
Is there any way to search all the phones with a ceirtain screen resolution? I mean... the ranges are pretty high... I can't find all devices with a certain screen resoltion? Why not make a bar from the smallest to the highest resolution based on ran...
?
Why is it when I search for phones with Android 4.4, 5.0, and 5.1, my results still end up including 6.0 and up?
D
Can i search for more than 70 popular phones ??