Software and benchmarks
The Honor 9i/Mate 10 Lite runs on Android 7.0 Nougat with EMUI 5.1. EMUI here is mostly identical to what we have seen on other recent Huawei phones, but it's not the latest EMUI 8, which comes along Android Oreo on the Mate 10 and 10 Pro.
Over the years, Huawei's software has made some positive changes towards a cleaner, more minimal design than the chrome-heavy looks of Chinese UIs.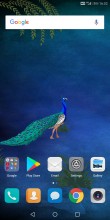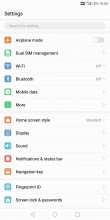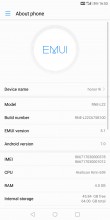 EMUI 5.1 on the Honor 9i/Mate 10 Lite
In its latest avatar, EMUI is perfectly functional as well as reasonably well designed to the point you wouldn't run to install a theme at startup. It's also not as feature-heavy as some other custom interfaces, which is a good thing as most of those features rarely get used and just add to the clutter. Everything you need is here and it all works reasonably well.
In terms of performance, the Honor 9i does quite well for itself. The Kirin 659 chipset has enough juice to chug along all day without really ever slowing down.
Not that the experience is butter smooth throughout, but the few stumbles here and there are easy to forgive when the rest of the experience is quite satisfactory.
Where it drops the ball is in GPU performance. The Mali-T830 MP2 is just not powerful enough for an FHD display, let alone a FHD+ display. The benchmark scores are some of the lowest we have seen this year and even in actual games, performance isn't great unless you are playing 2D or basic 3D games.
We also noticed some minor stuttering while playing back YouTube videos. The phone also gets a bit warm during gameplay.
GeekBench 4.1 (multi-core)
Higher is better
Huawei Mate 10 Pro
6783
Honor 9
6457
Oppo F3 Plus
4695
Xiaomi Mi A1
4292
Samsung Galaxy C7 Pro
4037
Sony Xperia XA1 Ultra
3807
Huawei P10 lite
3344
Huawei Mate 10 Lite / Honor 9i
3251
GeekBench 4.1 (single-core)
Higher is better
Huawei Mate 10 Pro
1902
Honor 9
1876
Oppo F3 Plus
1438
Huawei Mate 10 Lite / Honor 9i
916
Sony Xperia XA1 Ultra
897
Samsung Galaxy C7 Pro
891
Xiaomi Mi A1
877
Huawei P10 lite
834
AnTuTu 6
Higher is better
Huawei Mate 10 Pro
178510
Honor 9
143583
Honor 8 Pro
128755
Huawei Mate 9
122826
Oppo F3 Plus
91458
Samsung Galaxy C7 Pro
67540
Sony Xperia XA1 Ultra
64983
Xiaomi Mi A1
61762
Huawei P10 lite
60895
Huawei Mate 10 Lite / Honor 9i
58068
GFX 3.1 Manhattan (onscreen)
Higher is better
Huawei Mate 10 Pro
55
Honor 9
33
Huawei Mate 9
23
Honor 8 Pro
15
Oppo F3 Plus
11
Sony Xperia XA1 Ultra
6.7
Xiaomi Mi A1
6.3
Samsung Galaxy C7 Pro
6.1
Huawei P10 lite
5
Huawei Mate 10 Lite / Honor 9i
3.6
Basemark X
Higher is better
Huawei Mate 9
36519
Huawei Mate 10 Pro
32871
Honor 8 Pro
30853
Honor 9
29398
Oppo F3 Plus
16695
Xiaomi Mi A1
10472
Samsung Galaxy C7 Pro
10394
Sony Xperia XA1 Ultra
9598
Huawei P10 lite
7588
Huawei Mate 10 Lite / Honor 9i
7004
Basemark OS 2.0
Higher is better
Huawei Mate 10 Pro
3425
Honor 9
3072
Honor 8 Pro
2865
Huawei Mate 9
2637
Oppo F3 Plus
1890
Huawei Mate 10 Lite / Honor 9i
1309
Huawei P10 lite
1284
Xiaomi Mi A1
1262
Samsung Galaxy C7 Pro
1228
Sony Xperia XA1 Ultra
1163