Honor already has the Band 5 affordable wearable, which we really liked. However, the company decided it needs one more of those and brought a Sport version that is targeted at runners and basketball players.
Honor promises the six-axis motion sensor gives detailed info on your motion of running if you attach the Band 5 Sport on your shoe, so logically, that's exactly what we did to test its performance.
Honor Band 5 Sport specs
Design: Eco-friendly Fiber Band, 15g weight.
Six colors: Glacier Grey, Sakura/Cherry Pink, the rest should be purchased - Nebula Viole, Star Yellow, Tango Red, Denim Blue
Display:Black and White screen, Touch button
Sports Assistant: Footwear Mode and Wrist mode, six-axis motion tracking sensor
Battery life: Up to 14 days
Features: Message notifications, Call notifications, third-party social media apps
We also used the Honor Band 5 Sport as a regular smart band, because it is a wearable for anyone, not just avid runners or ballers.
Design and Appearance
The Honor Band 5 Sport has a tiny LCD panel but no touchscreen. UI navigation is done through the circular button that sits under the display. One tap goes through the various info like calories, step counter, mileage, while a five-second hold opens menus in Modes or Settings.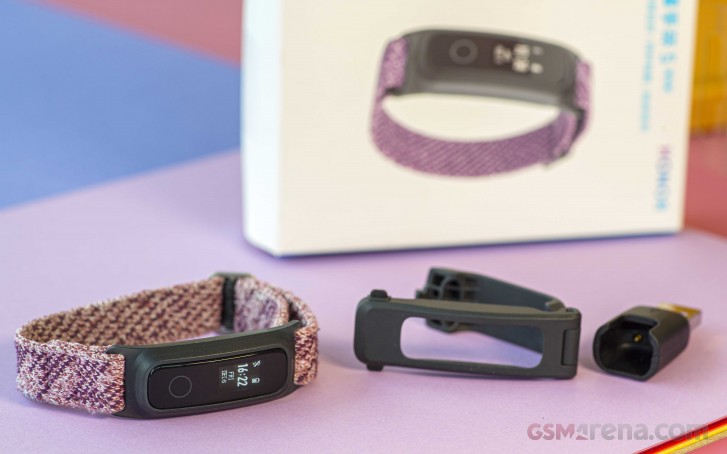 There is no heart rate sensor on its back, so even if you sleep with it, the Huawei Health app will only provide basic info - when you went to bed and when you woke up.
The band was presented by Honor officials in London, and one of the executives proudly announced the actual strap is made out of recycled waste bottles. It still remains elastic and easily adjustable and boosts Honor's image in the battle for environmental sustainability.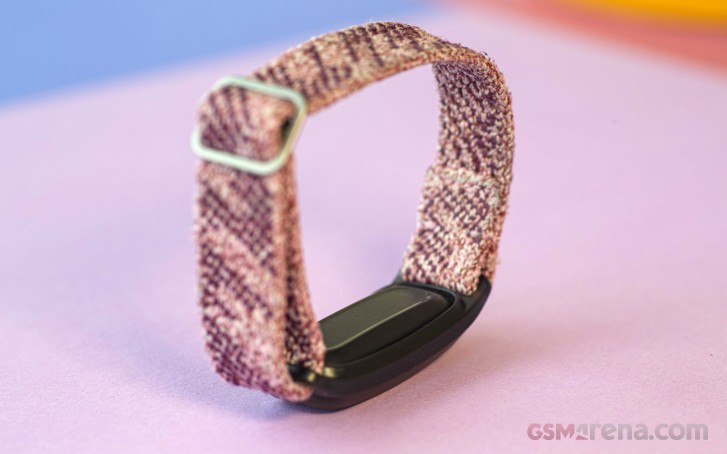 In the box there is also the tiny USB charger with two pogo pins. It is different than the Honor Band 5 charger and also has nothing in common with the circular pads for the Magic Watch. We understand the small charger is because the band doesn't really need a bigger one, but if you and your family are in the Huawei ecosystem, you will need a different charger for every gadget, including smartphones, and that might get frustrating at one point.
In the box there is also a clip that gets attached to the shoelaces and lets you wear the Honor Band 5 Sport on your foot. Once our sports shoes were tied, we selected the Running mode and that's where the fun began.
Sports Performance
In order to put it to the ultimate test, we decided that the inaugural run should be a 50K ultra-marathon race through a nearby valley. In hindsight, it would have been better to go for a run round in the park, but at least we got a lot of running data at once.
The Honor Band 5 Sport offers seven different kinds of insights for your running - Foot Strike Pattern, Landing impact, Ground Contact Time, Cadence, Step Length, Eversion Excursion, and Swing Angle. Thanks to the six-axis motion sensor the band reads and analyses the data pretty accurately.
The 50K run was finished in about 8:30 hours, but after ending the race, the data was showing only the first six hours. When we spoke with Honor officials, they clarified that this is on purpose - the Honor Band 5 Sport automatically turned it off as a safety precaution since you might've forgotten that it is still on.
While it inconvenienced us on this particular occasion it's actually a clever feature. No single run should continue more than six hours, no matter what the office weirdo ultra marathon runner says.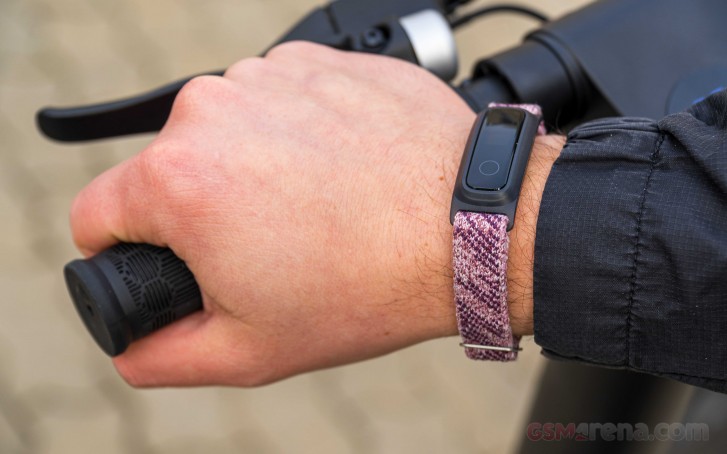 The small clamp did its job keeping the band in place perfectly - during the whole run it stayed there and didn't bother the runner at all. This allowed the motion sensor to track everything and then easily send it to Huawei Health app, once the band is connected with the phone. The actual smartphone is not needed throughout the run, once the Bluetooth link is back up, everything goes up in the cloud automatically.
One interesting feature is that the Honor Band 5 Sport tracks your steps even when the phone is not with you. When they are connected, Huawei Health gathers the band data. However, when the band is not with you, the application keeps tracking your steps and you cannot turn this feature off.
The activity is easily found in the exercise records of the application and there is a graph for all the data stored. One thing that we are missing in this whole experience is the heart rate tracking since the Honor Band 5 Sport lacks the sensor. It doesn't really need it, though - it cannot measure your HR through the shoe.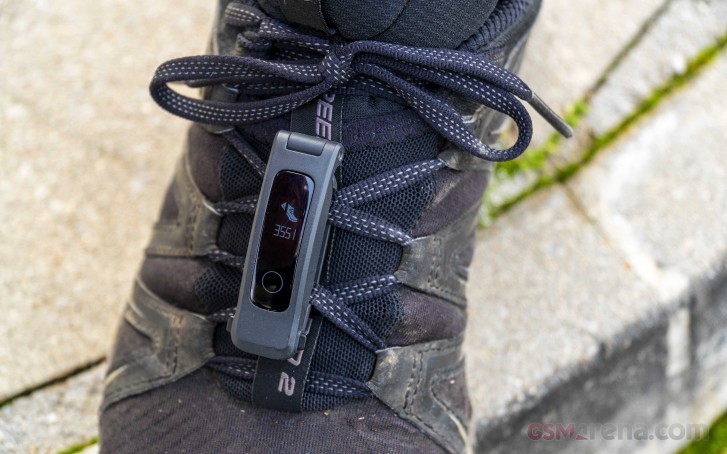 Huawei is really reluctant about sharing its data with third-party apps or allowing other devices in its platform, so you can't import the HR data. An Honor representative assured us this is because of security concerns - you can't have your data exported and stolen if the platform does not support import and export of sensitive information.
User Interface and Battery Life
This band is stripped from plenty of features that you can find on the regular Honor Band 5, and it is easy to understand why - the two gadgets are targeted to completely different consumer groups. The Band 5 Sport needs to provide ultimate running/basketball data, so you don't really need the fancy OLED display.
The time between two charges remains the same as the Band 5. The controls are pretty rudimentary, urging you to go out there and use the Band 5 Sport as intended on the court or the track.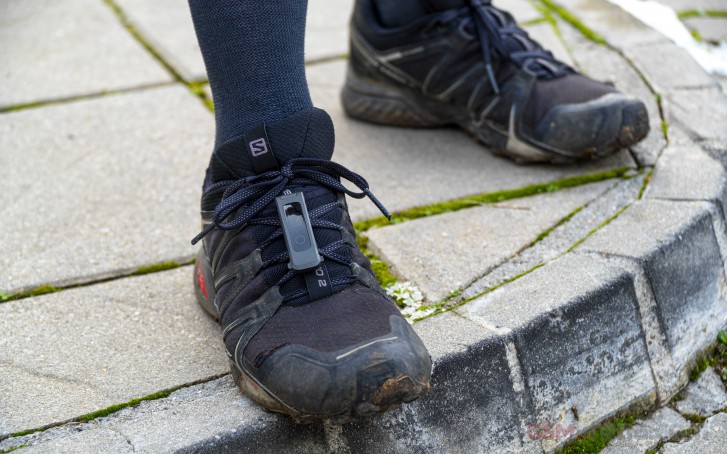 There are still plenty of basic features available - Step Count, Distance Traveled, Calories Burned, Workout Distance, Intensity Tracker, and Goal Setting. You can find your phone with it, set alarms, accept or decline calls and use the band as a reminder to stand up and stretch a bit, which is really convenient for people working on desks.
Verdict
Perfection is achieved, not when there is nothing more to add, but when there is nothing left to take away. Antoine de Saint-Exupery's quote was probably hanging somewhere on the wall of the Band 5 Sport designer team.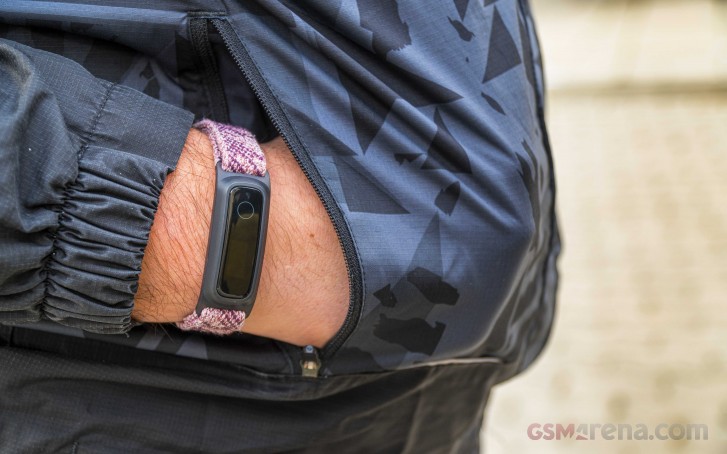 The band is the perfect affordable partner for your runs or basketball games at such a low price. The official cost is about £25 and if its available in your country and you are an avid runner or basketball player, we wholeheartedly recommend that you give it a try.
?
bet that band will need to be washed a lot... especially for "sports" type people.
S
GSMarena titles be like "Honor Band 5 Sport sports a tiny LCD panel."
k
"One interesting feature is that the Honor Band 5 Sport tracks your steps even when the phone is not with you." err... as if other band e.g. MiBand cannot track steps when phone is not around...