Facebook and Twitter
Facebook and Twitter fans will appreciate the preinstalled Facebook and Peep apps, which let you post on the world's largest social networks.
The latest Facebook app is available, which enables things like Facebook Chat (yet another way to talk to your friends) and Facebook Places (which lets you to check into places, like Foursquare).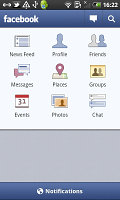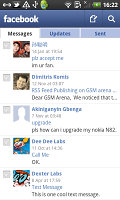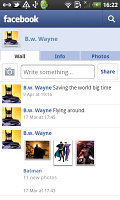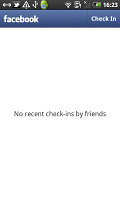 The Facebook apps let you update your Facebook profile
The official Twitter app for Android also comes preinstalled – some might prefer it over Peep (they both integrate with the phonebook so you don't have to actually start the app).
The official Twitter app is the latest version too – tweets can be geotagged, you can snap a photo to include in the tweet straight in the app (uploaded automatically to yfrog or TwitPic) and there are handy buttons to reply to or retweet a message.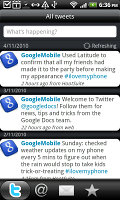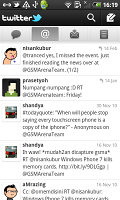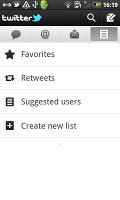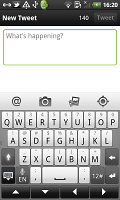 The Peep app • Official Twitter app
There are two handy search apps Quick lookup and Search Anywhere. Quick lookup lets you enter a query and view the Wikipedia article (formatter for easy reading), search Google, YouTube, use Google Translate or look it up in Google Dictionary. The Search Anywhere app is a universal in-phone search that covers anything – from settings and messages to songs and videos.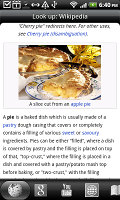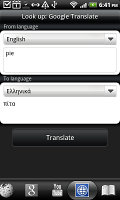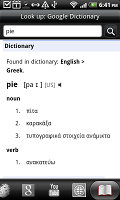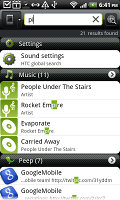 Quick lookup is a handy research too • Search Anywhere really does search everywhere
eBooks as wellM
The Reader app is an eBook reader provided by Kobo. It comes preloaded with several classics (from A Tale of Two Cities to White Fang) and access to Kobo's eBook store where you can buy new books (the store has free titles too).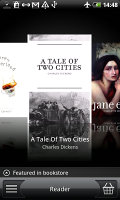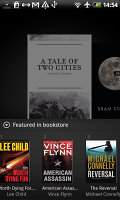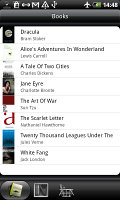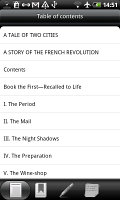 The Reader app comes preloaded with several books
The UI is fairly simple – the library displays as a list of book-cover thumbs or as a simple list. Once you tap a cover, it opens up the book for you with a nice animation.
The reader formats the book to best fit the screen and you can adjust the font. You can add bookmarks, highlight sections of the book with different colors and even jot down notes – you can access those in the context menu while reading the book.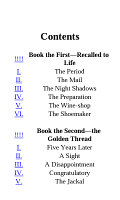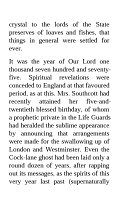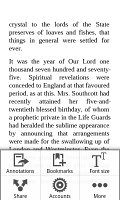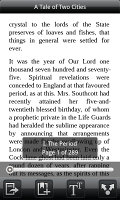 Reading from virtual sheets of paper
The background is pure white, which means it glows with the full strength of the backlight, which quickly becomes a problem and tires your eyes. A choice of background colors would have been nice, as well as an easy to reach control of the backlight.
Another thing we missed is the option to import e-books you already have – like classic books from Project Guttenberg for example.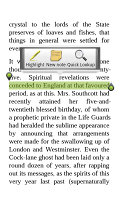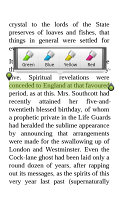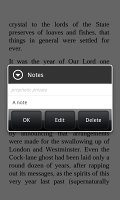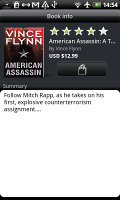 Highlighting and notes • buying a book from the Kobo eBook store
Anyway, some will find the Reader app useful, others can just grab Kindle for Android from the Market or one of the other free eBook readers.
Android Market, HTC Hub and HTC Likes
The structure of the Android Market is quite simple – featured apps on top and above them, three sections (Applications, Games and Downloads). There is also a shortcut up there for initiating a search.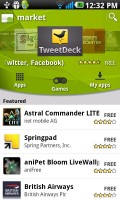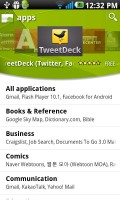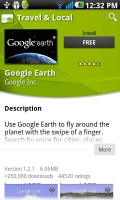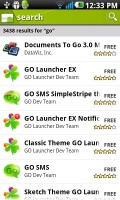 The Android Market will give you access to hundreds of thousands of applications
The Applications and Games sections are divided into subsections (e.g. Communication, Entertainment etc.), so you can filter the apps that are relevant to you. Of course, there is also an option of displaying all apps in bulk, but you'll probably need days to browse them all that way.
There are all kinds of apps in the Android market and the most important ones are covered (file managers, navigation apps, document readers etc.).
HTC Likes is an alternative way to browse the Market, which might prove to be more convenient than the vanilla app. It has tabs for Featured and Popular apps, which are presented as 3D cards.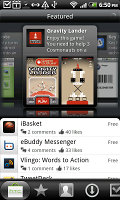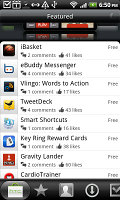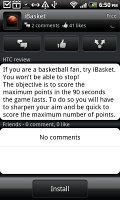 HTC Likes is an alternative to the Android Market
To make finding apps even easier, you can see what apps/games your friends have commented on, which is a great way to find recommended apps. Or you can use the HTCSense.com site to look for apps from the comfort of your computer and mark them. Later, you can find them in the Market items tab.
HTC Likes pulls apps from the Android Market, but each one comes with an HTC review. You can comment on apps, like and share them via texts or email, even over Twitter and Bluetooth (which just sends a text note with a link to the app).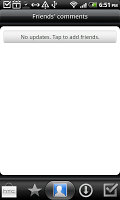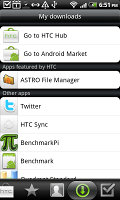 You can check out what your friends have said about the apps
Not quite an app store, but the HTC Hub is a good source of widgets, wallpapers, scenes and skins and also sound customizations – ringtones, alarms and notification sounds and entire sound sets (a set is a whole package that brings together the other three categories).