Organizer
The HTC DROID DNA features the usual set of organizer applications. To our surprise however, the device did not have an office app preinstalled.
The calendar has four different types of view: daily, monthly, agenda and invitation. Adding a new event is quite straightforward and you can also set an alarm to serve as a reminder.
The Agenda view shows a list of all the calendar entries from the recent past to the near future. Invitation view only lists events with invitation info attached to them. The day view also shows the weather forecast at the top of the screen, which is a nice touch.
The Calendar supports multiple online calendars (including Facebook), only one of which you can sync with your computer. You can also easily show/hide the ones you don't want.
There is also a calculator on board. It is nicely touch optimized with big, easy to hit buttons. Flipping it horizontally enables some more advanced functions like logarithms.
The World clock (also part of the Clock app) is like a mini Google Earth - it shows a 3D globe and you can rotate and zoom in on it freely. You can add cities that are pinned to the globe (and also visible as a list below it).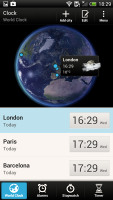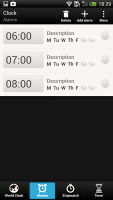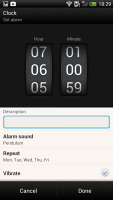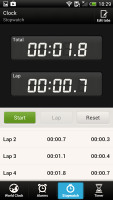 The alarm clock, stopwatch and timer
The HTC DROID DNA features an alarm clock application, which can handle multiple alarms, each with its own start and repeat time. You also get a stopwatch and a timer in the same app.
HTC Note app is also onboard. It is somewhat similar to Samsung's SPen - you can take various notes, add drawings, pictures and dictations. Sharing and printing options are also available.
There is HTC Tasks app as well. It does exactly what the name suggests and can access your Google Tasks.
Another HTC exclusive app you get is a very basic Movie Editor, which can be used for trimming videos among other things.
Play Store
The Google Play Store features several scrollable tabs - categories, featured, top paid, top free, top grossing, top new paid, top new free and trending. Apps usually have several screenshots (some even offer a demo video) so you can get an idea of what the app looks like before installing it. You can also check out comments and ratings, as well as the number of downloads and so on, to help you decide if the app is worth it.
There are all kinds of apps in the Android market and the most important ones are covered (file managers, navigation apps, document readers etc.).
Unfortunately there is no HTC Hub in the Jelly Bean version of HTC's Android implementation. This means you can't get additional HTC scenes, HTC wallpapers, etc.
Google Maps
The HTC DROID DNA has a built-in GPS receiver, which managed to get a lock in under a minute (with A-GPS switched off). If all you need is a rough idea of where you are (within 150 meters) you can use the Cell-ID and Wi-Fi network lock, which is very fast.
Google Maps is a standard part of the Android package and we've covered it many times before. It offers voice-guided navigation in certain countries and falls back to a list of instructions elsewhere. You can plan routes, search for nearby POI and go into the always cool Street View.