A fine organizer on board, office doc reader too
The HTC Gratia comes with the usual set of organizing apps. It also has a preinstalled document viewer, which handles office files just fine.
That's the Quickoffice app, which has support for viewing Word, Excel, and PowerPoint, including the Office 2007 versions.
For editing, you will need to get the paid app though. There is also a PDF viewer to handle PDF files.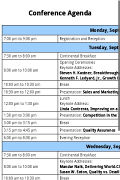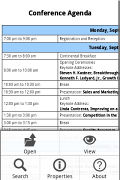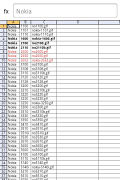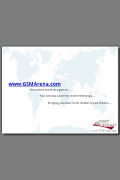 The Quickoffice handles .doc, .xls and .ppt files seamlessly, but needs a paid upgrade for editing
The doc viewer integrates with the Gmail app, which makes viewing attachments a cinch. You can't download them to the phone's internal memory however. Attaching saved files (and we mean all kind of files) is possible though.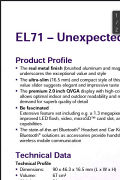 The PDF files are handled by the dedicated PDF reader
The calendar has four different types of view: daily, weekly, monthly and agenda. Adding a new event is quick and easy, and you can also set an alarm to serve as a reminder.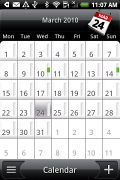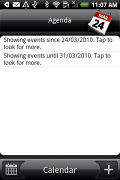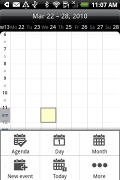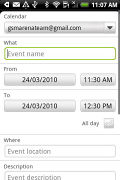 The HTC Gratia organizer centerpiece – the calendar
The Agenda view shows a list of all the calendar entries from the recent past to the near future. It's a very handy tool when you need to check your appointments for the next few days.
There is also a calculator aboard. It is nicely touch optimized with big, easy to hit buttons.
The HTC Gratia features an alarm clock application, which allows a lot of alarms to be set, each with its own start time and repeat pattern. The Desk clock app turns your Gratia into a… well, Desk clock. It displays the current time and date and allows you to switch off the display backlighting to save battery power or not disturb at night.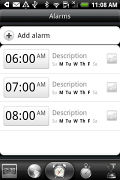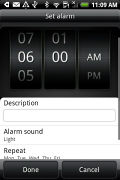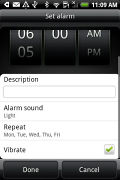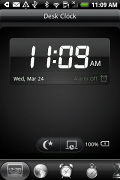 The alarm clock and desk clock apps
The World clock app allows you to quickly check the time in different time zones, while the stopwatch and timer apps might come in handy if you plan to take the Gratia with you when doing sports.
The Stocks application gives you quotes from Yahoo finance.
The Voice recorder might be quite useful for making audio notes and the weather app brings Yahoo's weather forecast for your area a click away.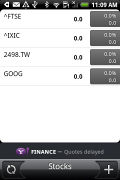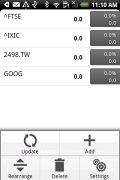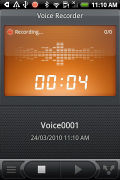 The Stocks app • Making a voice memo with the Voice recorder
Facebook and Twitter fans will appreciate the preinstalled Facebook and Peep apps, which allow you to update your profiles on the world's largest social networks.
You can read your friends' updates in the People app but the full-blown Facebook app offers more features. You can update your profile, browser other people profiles and view news feeds, events, messages and friend requests.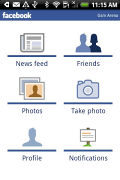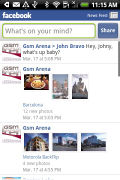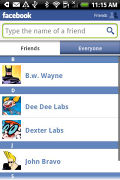 The Facebook apps let you update your Facebook profile
Peep integrates with the phonebook, so you can read your friends' tweets from there, no need to launch the app. The app is quite capable – it has handy shortcuts to snap a photo to send along wit the tweet (it automatically uploads it to either Twitpic or Twitgoo) and to add geo-tagging info to your message. The app will also automatically shorten links (using TinyURL or is.gd).
GPS navigation without voice-guidance
The HTC Gratia comes with a capable built-in GPS receiver. It managed a satellite lock in under two minutes without A-GPS on, which is pretty good.
Google Maps is a standard part of the Android package and of course makes an appearance on the Aria as well. Its voice-guided navigation version, the Google Maps Navigation is still only available in select countries though.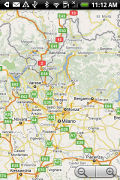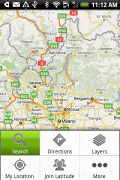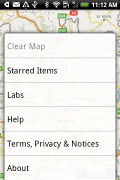 Google Maps is an incoherent part of the Android platform
You can still plan a route and track your current location so it's better than nothing but you have to rely on network data for downloading the map info. At least, pinch-zooming is available here as well so on-screen controls and double-tap zooming won't be your only zooming options.
The Street View mode is supported in Google Maps and it's probably the most fun part of Google Maps. It gives you a 360-degree view of the surroundings where available. When the digital compass is turned on it feels like you're taking a virtual tour of the location.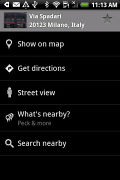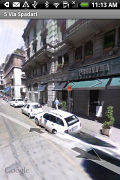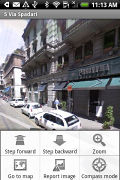 The Street view is quite impressive indeed
There isn't an alternative navigation app preinstalled, so if you want one you'll have to visit the Android market and pick one yourselves.
If you were hoping for the free SatNav software – HTC Locations – you'll be disappointed. The Android Market has alternatives of course (both free and paid) but Locations is a premium app that would have really elevated the HTC Gratia status.
Anyway, the Gratia comes with the Car Panel app which offers big, easy to hit buttons so that you don't get too distracted while driving. A handy option is "mark this location" – great for those who often forget where they parked their car.