A Hero becomes a Legend
HTC Legend review: A Hero becomes a Legend

Great audio quality
The HTC Legend has a slightly better audio output than that of its predecessor, the HTC Hero. The noise level, dynamic range and stereo crosstalk may have lost some ground but are still excellent, while the rest of the readings (which weren't quite as impressive on the Hero) have improved greatly.
Frequency response is now spot on for the entire range and distortions have been kept well under control. All in all - a very good overall performance.
And here go the results so you can see for yourselves.
| | | | | | | |
| --- | --- | --- | --- | --- | --- | --- |
| Test | Frequency response | Noise level | Dynamic range | THD | IMD + Noise | Stereo crosstalk |
| HTC Legend | +0.13 -0.56 | -83.4 | 86.5 | 0.024 | 0.191 | -83.5 |
| HTC Hero | +1.04 -2.13 | -91.3 | 92.3 | 0.458 | 0.902 | -95.8 |
| HTC Tattoo | +0.12 -0.63 | -84.8 | 87.2 | 0.018 | 0.156 | -84.8 |
| Samsung I7500 Galaxy | +0.13 -1.04 | -83.8 | 86.3 | 0.023 | 0.118 | -75.2 |
| HTC Magic | +0.21 -2.20 | -85.6 | 88.8 | 0.025 | 0.220 | -86.0 |
| Motorola BACKFLIP | +0.11 -0.48 | -63.1 | 63.4 | 0.042 | 0.165 | -59.9 |
| Apple iPhone 3GS | +0.01, -0.05 | -92.1 | 92.1 | 0.0035 | 0.011 | -95.0 |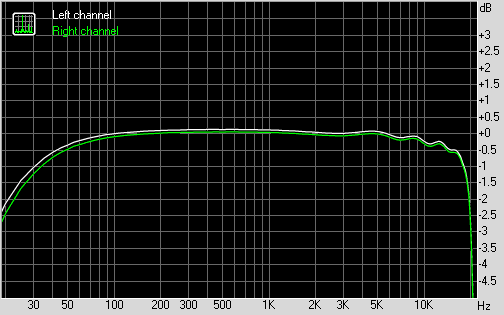 HTC Legend frequency response graphs
You can learn more about the whole testing process here.
Uninspiring 5 megapixel snapper
HTC Legend relies on a 5 megapixel camera module with a maximum image resolution of 2592 x 1936 pixels and a LED flash for its photography needs. This is becoming pretty much the norm for recent upper mid-range and high-end Android handsets so the HTC seems to be on level ground with its competitors.
However thanks to running Android 2.1 the Legend also has a camera interface that is similar to some of its competitors outside the Google OS world. There are a number of customizable settings ranging from ISO speed to aspect ratio and auto focus and even if that makes the Omnia HD owners giggle it's a nice improvement for the Android crew.
We are yet to see modern-day features such as face, smile and blink detection, for example, but the gap is closing.
Unfortunately, the usability is still pretty bad with most of the options sitting on a retractable tray at the left side of the viewfinder which can either be dragged out by a finger sweep or by pressing the menu key.
You get a shortcuts for activating the flash and exposure compensation around the viewfinder but that's pretty much that. The only other shortcut leads to the gallery and that hardly help much with the photography itself.
The image quality of the HTC Legend camera is about average. The weather wasn't too favorable around the office these days but we still expected a better result from it. There's a decent amount of resolved detail but contrast is way too low. Noise is also quite high and you can easily see a pinkish spot in the center of the frame.
Here go the samples for you to check out.
Synthetic resolution
We also snapped our resolution chart with the Legend. You can check out what that test is all about here.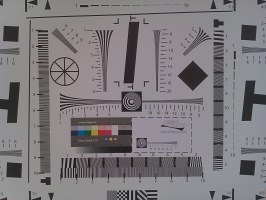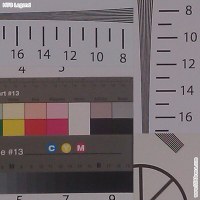 HTC Legend resolution chart photo • 100% crops
VGA video
HTC Legend manages to record VGA videos at 30 fps, which is quite good for an Android handset. There are only a couple of devices that do better than that (the HTC Desire and the Google Nexus One) but even they only go as high as D1 and that is just 12.5 percent better).
The interface of the camcorder is similar to the one on the still camera and by usual Android standards there are tons of customizable options with this one. You can set the video resolution, encoding type and recording limit.
As far as image adjustments are concerned you get exposure compensation, contrast, saturation and sharpness settings as well as color effects and white balances settings.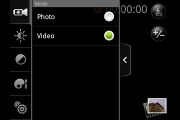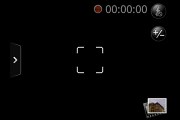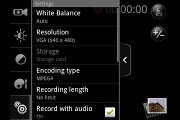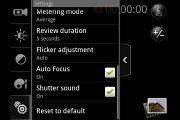 Camcorder has plenty of options
Auto focus is also there for you to enable but the Legend only focuses before the recording starts and acts as a fixed focus camera after that.
Video quality is pretty decent at the optimum settings with a good amount of resolved detail. The low contrast issues are visible here too and there are some compression artifacts but this is nothing to frown too much about.
Here is a sample VGA@30fps video clip.