It was only three days ago when the press shot of the HTC Omega leaked. Today, we have several live shots of the Windows Phone 7.5 Mango device, along with a price tag (sort of).
The pictures of the device which you are seeing below are taken from an Algerian website, where the HTC Omega is being sold of the equivalent of approximately €400.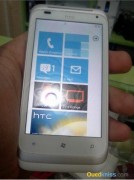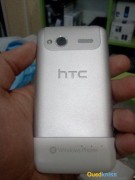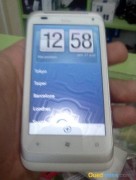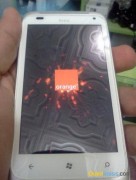 It is important to note the Orange logo on one of the shots. It is most likely one of the operators which will offer the smartphone when launched.
As far as specs go, we already know that the phone will feature a 3.8-inch SLCD WVGA display, an 8 megapixel snapper with LED flash plus a 720p camcorder, and a Qualcomm MSM8255 Snapdragon core with a 1.5GHz processor and 512MB RAM.
We will know more about the HTC Omega in a couple of days, when HTC hosts an event across Europe, so stay tuned!
S
most of the rear design of HTC device is terrible !
N
This looks like the HTC Legand what are they doing ???
a
im very shamed that the company i work for let a release like this happen :(
ADVERTISEMENTS