Organizer
Google Drive comes pre-installed on the HTC One (M8). It brings all of your documents, presentations, forms and spreadsheets from the browser-based Drive along with folders, etc. You can create only docs and spreadsheets on the mobile version of the app. You can also snap photos and the app transforms them into PDF scans.
The HTC Sense 6 calendar on has flatter look, but the same functionality as its predecessor. It has four different types of view: daily, monthly, agenda and invitation. The day view also shows the weather forecast at the top of the screen.
Adding a new event is quite straightforward and you can also set an alarm to serve as a reminder.
The Clock app comes with World Clock, Alarms, Stopwatch and a Timer. The World clock is like a mini Google Earth - it shows a 3D globe and you can rotate and zoom in on it freely. You can add cities that are pinned to the globe (and also visible as a list below it).
The alarm clock application can handle multiple alarms, each with its own start and repeat time. The stopwatch and timer are self-explanatory.
The HTC Tasks app is here as well. It does exactly what the name suggests and can access your Google Tasks. There is no location-based reminder support unlike with Any.DO, iOS's Reminders, etc.
HTC's Weather app is here too. It became popular years ago with its cool weather animations and widget. You can preset many cities across the globe and it sources info from AccuWeather (much like Samsung and Apple do).
Google Maps
The HTC One (M8) comes with a GPS receiver which supports GLONASS for faster, more accurate locks. You can use the A-GPS functionality to get near instantaneous locks. Alternatively, network positioning will also do if you only need an estimate of your location.
Google Maps is a standard part of the Android package and we've covered it many times before. It offers voice-guided navigation in certain countries and falls back to a list of instructions elsewhere.
3D buildings are shown for some of the bigger cities and you can use two-finger camera tilt and rotate to get a better view of the area.
You can also plan routes, search for nearby POI or go into the always cool Street View. The app will reroute you if you get off course, even without a data connection.
Google Maps uses vector maps, which are data efficient. You can choose an area of the map, which should be available for offline use. Address search however is not possible for the offline maps content.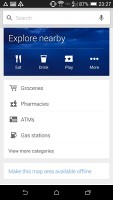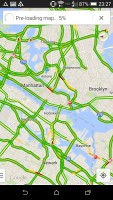 Making a map available offline
Google Play store
Running on Android 4.4.2 KitKat, the HTC One (M8) has access to all the good which the Google Play store has to offer. You get to your account, My Apps, My wishlist and parts of it through a side menu a la Google+.
The Store is neatly organized in categories. They include apps, games, music, movies & TV shows, and a newsstand. In short, you can find all the content you will ever need.