HTC is still in a downhill slide, posting negative growth numbers quarter after quarter. Today, the company has released its consolidated results for the first quarter of the year and everything is down compared to the same quarter last year. The only positive development is that the company's expenses are lower, too.
Things are looking unchanged compared to the unaudited results we saw lest month. Revenue is 42.8 billion NT$ (USD1.4 billion) while net income was a lowly 85 million NT$ (USD2.8 million).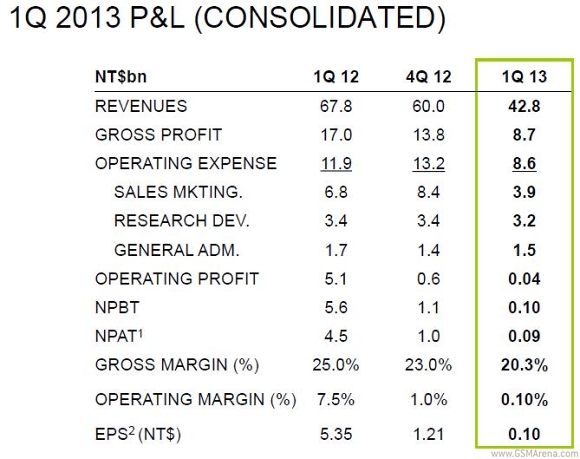 The gross margin in Q1 2013 was 20.3% compared to the 25% of last year's Q1, while operating margin has hit a new low at 0.1% compared to 7.5% a year ago.
Positively, HTC has shrunk its operating expense from $4 billion to $2.9 billion and for the next quarter it's projecting a revenue of 70 billion NT$ ($2.3 billion) and a higher gross margin between 22% and 24%.
D
htc you guys have done a fabulous job with the htc one!!no doubt about that infact i used to hate htc because of the custom UI and the specs of your previous phones but now i have to say you guys are doing awesome!but i have to mention that you have ...
D
What centuray are you living in! Try film in 1080p and see how fast it will eat up your memory. Or why not download a offline map for 2gig. Also mp3's take space, likewise if you have movies. That is why people want SD. Its very cheap and you swap it...
J
What I am saying is I have a phone with only 1gb user memory and expanded with a 16 gb sd card and have about 6gb of music on the card. so a phone having just 16 gb internal (user memory about 8gb)and non expandable will not suit people like me. som...
ADVERTISEMENTS