HTC's preliminary report made it pretty clear that the last couple of quarters were pretty tough for the company. Now, their full report is out and it gives us some more details on how HTC performed in Q1 of 2012.
The company's revenue ($2.3 billion) dropped about 34% both quarter on quarter and year on year. HTC attributes that to the product transition cycle (the new HTC One series went on sale after Q1 ended).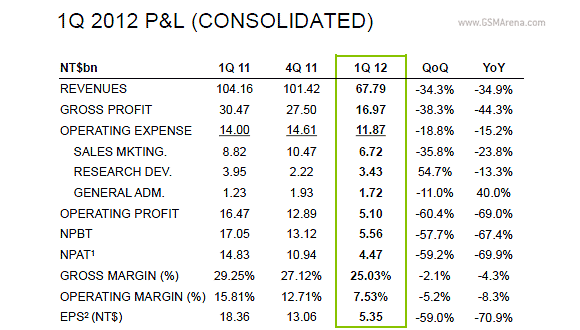 HTC managed to cut down operating expense during Q1 (mostly by reducing marketing costs), but the operating profit of $173 million was down 60% quarter on quarter and 69% compared to Q1 of last year. Both gross margin and operating margin are down as well.
For the second quarter of this year, HTC expects these margins to reach their Q4 2011 levels and the projected revenue is $3.59 billion or about what they were a year ago.
H
Dear HTC The problem is the BATTERY ! NO ONE WANTS TO BUY A MOBILE WITH A BAD BATTERY ! Thats why no one buys HTC although it has the BEST UI the BEST design the BEST everything.. BUT with a bad battery people wont buy it I want to buy HTC ...
W
Why does a thin phone equal poor battery life. Have you seen the Moto RAZR MAXX? It's thin, has a large screen and amazing battery life. Of course, by "amazing" I mean the hands down best battery life of any phone on the market right now...
p
As HTC ditched the memory card. I have decided not buy a HTC this year. Won't buy a smartphone without a card reader.
ADVERTISEMENTS