Organizer and applications
The HTC Tattoo came without a document viewer, so we headed to the Android Market to find one. We found only a couple of options and both were trial versions (it could be because the Tattoo runs an older version of Android).
We tried out OfficeSuite Viewer to find it handled all types of Office documents (including the Office 2007 versions) along with PDF and even ZIP.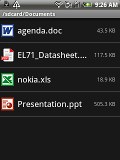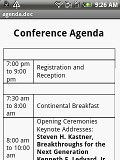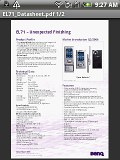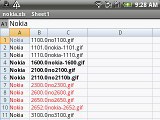 OfficeSuite Viewer handles all types of Office files
The best part about it is that the viewer integrates with the Gmail app as well, so you can view attachments. Unfortunately, you can't save them to the phone memory (that only works for images, we guess). Attaching saved files (and we mean all kind of files) is possible though.
The calendar has four different types of view - agenda, daily, weekly and monthly. Adding a new event is quick and easy, and you can also set an alarm to act as a reminder.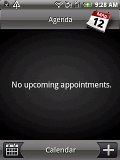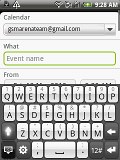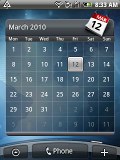 The organizer centerpiece - the calendar • there's a calendar widget too
The agenda view shows a list of all the calendar entries from the recent past to the near future. It's a very handy tool when you need to check your appointments for the next few days.
There is also a calculator aboard. It is nicely touch optimized with big, easy to hit buttons.
The HTC Tattoo features an alarm clock application which allows a lot of alarms to be set, each with its own start time and repeat pattern.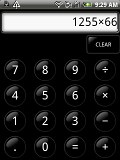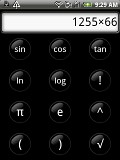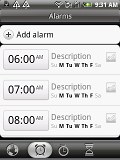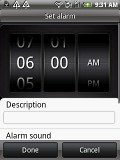 The Calculator and the Alarm clock app
The HTC Footprints app allows you to geo-tag images and save them in diverse categories such as favorites, shopping, dining, etc accompanied by a personal note. Once you take a picture of a place you can look up its address and location using Google Maps.
Finally, comes the YouTube app which, partially compensates for the web browser's lack of Flash support. Its interface is simple enough to let you find whatever you're looking for as quickly as possible.
GPS navigation
The HTC Tattoo comes with a very capable GPS receiver that quickly got a lock and didn't loose it even without a clear view of the sky.
Google Maps is a standard part of the Android package and of course makes an appearance on the HTC Tattoo as well. Its voice-guided navigation version, the Google Maps Navigation is available only in the US, but even without Navigation, there is some kind of guidance: your route and current location appear on the screen so you'll reach your destination eventually.
Quite naturally, the app also sports Street View mode. In fact, this mode is probably the most fun part of Google Maps. It gives you a 360-degree view of the surroundings where it's available (North America, parts of South America, parts of Europe and other locations).
When the digital compass is turned on it feels like making a virtual tour of the location. The compass itself is not the most accurate we've seen, but does the job well enough.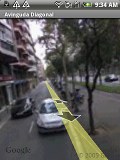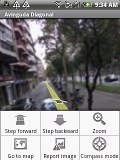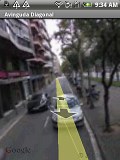 Using Street View • What's near by?
The Android Market offers a lot of alternative SatNav apps for those outside the US, some of them free.
In the Nexus One review, we tried out Wisepilot and AndNav! 2 and those are just a couple of the options available. They both download map data off the Internet (like Google Maps does) but AndNav! 2 has the option to preload the data, which is great for those without a data plan.
Android Market has what you need
The QVGA screen is limiting the HTC Tattoo in terms of compatible content on the Android market. The market applies automatic filtering, listing only applications compatible with the QVGA resolution. There is a way around this, of course, but it involves rooting your phone.
Anyway, the number of compatible applications must have increased since the launch of the Tattoo. And it's only likely to keep going up now that more QVGA droids are emerging.
The Market organizes apps and games into two separate tabs and each tab lists sub-categories (e.g. Finance applications, Arcade & Action games). In each category you can select to view the Top free apps or "Just in", the apps and games that were just entered into the market.
There's a third tab – Downloads – that keeps track of what you've already downloaded.
Searching is very easy – just tap the search button, type what you're looking for (e.g. "navigation"). From then on, it's pretty easy to choose – each app has a rating, a short description by the author, user comments and screen shots.
A nice touch is that before you install an app, you are warned about what the app can access on your phone – the internal memory, your location, use the phone (e.g. make a call), connect to the Internet. This is great because it's easy to spot apps that can be potentially malicious or ones that can incur data charges.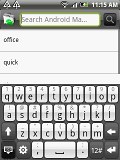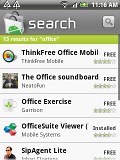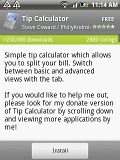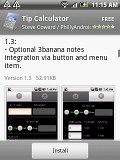 Finding the app you need is as easy as pie
Applications vary from pretty silly (including one that simulates a doorbell) to real must-have's (including file managers, navigation software and more), but that's true for every other app store.