Display: PocketPC standard
We find the 2.8" 65K color TFT touchscreen of the HTC Touch Cruise acceptable. It's on par with most PocketPC screens out there, which unfortunately includes the usual low legibility under direct sunlight. It gets even worse when covered in fingerprints. Topped with the small system font of Windows Mobile, it doesn't even come close to providing adequate sunlight legibility.
It seems the right place to make a necessary remark about the display colors. 262K-color support is not native to 32-bit processors, so manufacturers are limited to choosing between 65K or 16M colors. However, displaying 16 million colors would probably be too demanding on some systems, compromising performance and/or battery life. And even though some manufacturers claim that their PocketPCs have 262K color displays you can be sure that they still show the same 65K colors many are grumbling about. Still we don't really believe there will be much difference to the human eye between 65K and 262K color displays on most occasions.
Telephony is simply great
No need to remind you that HTC Touch Cruise is a mobile phone before anything else. Performance in calls is therefore extremely important. Luckily, it is completely up to the task. Calling is trouble-free as you would expect. The Phone application is in charge of all call-related features. Custom-made for HTC, it has large virtual keys that allow easy one-hand operation. In the upper right corner there's the Backspace key, below it is the Video call key and, finally, the Calls Log key.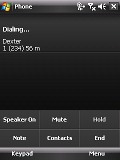 Calling Dexter on HTC Touch Cruise
The thing we like most about Windows Mobile devices is that you hardly ever need to open your phonebook in order to dial a contact. You just open the Phone and use its built-in Smart Dial feature. As soon as you've punched a few digits, it automatically filters the available contacts by their numbers and their names. It uses the letters assigned to each number key for that (much like T9 when writing) - but unlike a feature phone, it checks all the available combinations. Smart dial even searches in your recent calls list.
Audio quality during calls is also at a very high level and you will have no problems on either end of a call.
Here is how the HTC Touch Cruise did in our loudspeaker test. It ranks just above the average performers, which is about enough to never miss a call in most environments. Still it fails to come close to the HTC TyTN II high standards.
| | | | | |
| --- | --- | --- | --- | --- |
| Speakerphone test | Voice, dB | Pink noise/ Music, dB | Ringing phone, dB | Overal score |
| HTC Touch Cruise | 68.8 | 66.6 | 74.2 | Good |
| Apple iPhone (firmware 1.1.1) | 67.2 | 60.2 | 66.6 | Below average |
| HTC Touch | 75.7 | 75.7 | 85.5 | Excellent |
| HTC Tytn II | 76.0 | 75.7 | 82.7 | Excellent |
| LG KS20 | 66.1 | 70.6 | 64.9 | Average |
| Nokia N95 8GB | 75.7 | 66.2 | 70.5 | Good |
| Sony Ericsson W960 | 72.3 | 73.5 | 76.7 | Very good |
More info about the test itself, as well as the results of the other tested devices is available here.
Windows Mobile 6 is familiar enough
Windows Mobile 6 Professional has been available for quite a while now, so everyone interested in PocketPCs has probably long since come to know it. Essentially, any PocketPC is just a software platform which you can expand according to your needs, thanks to the multitude of available applications.
So we acknowledge that any current PocketPC user would hardly need a review of the default Windows Mobile applications that come preinstalled with the device - they are always the same. The reason why people change their PocketPC with new ones is only the hardware equipment - they simply want snappier and more user-friendly hardware to run their favorite applications on.
So as a rule, PocketPC fans and users will only be interested in the hardware part of this review. This particular PocketPC is powered by a Qualcomm MSM 7200 chipset platform. A primary 400MHz Qualcomm ARM11 processor runs applications, while a secondary 274 MHz ARM9 microprocessor is in charge of radio equipment. Other hardware specs include 128MB of RAM and 256MB of ROM, which are both decent numbers.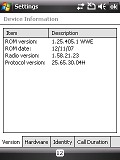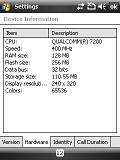 The hardware specifications of HTC Touch Cruise
We also need to mention that even if some manufacturer comes up with an ingenious application of their own, the hard-working PocketPC scene will take care of passing it on to older models. We saw it happen with the first version of the HTC TouchFLO technology already.
So really, buying your Windows Mobile device is just the start - much like your desktop Windows. You hardly ever think of the built-in functions of your desktop OS, as long as you use it to run useful applications on it. We think that should've made our point. Anyways, we'll still give you the most interesting traits of the software for people new to PocketPCs, as well as for those interested in what they get right out of the box when buying the HTC Touch Cruise.
The first thing you'll notice when you power up the HTC Touch Cruise is the custom HTC home screen. It's an add-on that simply comes preinstalled (same goes true for the TouchFLO for that matter) and we have to say that it's a really handy one, as it offers five separate tabs with frequently used functions.
The Home tab displays info about the time and date plus status indicators for unread messages, mail or missed calls. The Favorite people tab allows you to store quick dial shortcuts to people in your contact list that you call frequently (their images get shown too). The Weather tab is rather self-explanatory - it even gives you a weekly forecast. The Launcher tab stores several configurable shortcuts and, finally, the Sound tab offers quick setup of ringing profiles and your current ringtone. Furthermore, a little tweak allows you to change the number and order of the tabs according to you preferences.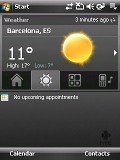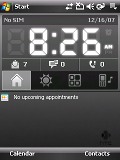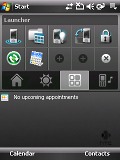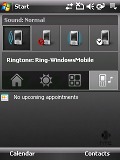 The four available tabs on the HTC home screen
Ever since Windows Mobile 5, PocketPCs have had support for changing screen orientation. The Touch Cruise makes no exception and can be rotated by clicking the shortcut on the today screen or through the settings menu.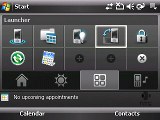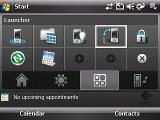 The screen can also be rotated in landscape position
Now, for those of you that are not familiar with PocketPC, we should probably explain that those handsets have no "main menu" the way feature phones or Symbian devices do. Instead, here you have the Programs menu and the Settings menu - they are almost all you need to access the PocketPC features.
They are both accessible through the Start menu which, like the one in the desktop Windows, is a user configurable list of shortcuts to some favorite applications. However unlike the desktop Windows, the Home screen is not necessarily a place for your applications - instead you usually use the Start menu to access them. There is an interesting option on the Touch Cruise, which enlarges the start menu to make it easier to read and navigate by touch.
The Communication Manager is where you turn all the connectivity features on or off, such as Bluetooth, WLAN, Data connection and even telephony. The HTC Touch Cruise has a nice custom skin for the application making it much better looking and user-friendly.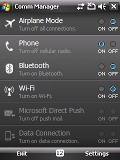 The communication manager interface
Windows Mobile 6.0 offers elaborate multi-tasking to the extent that it makes it quite hard to shut down open applications. The OS is designed in such a way that it should remain fast and stable without having to close running applications. Those of you with longer experience with this OS however, will surely agree that it does not always work this way, especially in the case of particularly heavy applications when the available memory seems to drain rather fast.
The Task manager for the currently running processes is hidden deep in the Settings menu so you would normally need quite a number of clicks to reach it. Luckily, HTC have preinstalled a third-party application on the Touch Cruise to facilitate the access to it. A quick press on the upper right corner on the Home screen opens a list of the currently running applications. No system processes are shown, so you won't get confused by all those enigmatic names you've probably seen in the desktop Windows Task Manager.
Another proprietary HTC plug-in provides easier access to the icons placed on the top bar of HTC Touch Cruise. Once you click the bar near them a pop-up with the same icon appears, but this time they are of much larges size and far easier to press with a finger.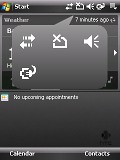 The large icons facilitate the access to some of the most common features greatly
Windows Mobile traditionally offers customization through themes but they only change the color scheme. You can of course change the wallpaper on the Home screen too, but that's pretty much all you get. In order to apply some more advanced customization, you would need a third party application. Those kinds of applications however usually eat up your RAM. Besides, the HTC custom home screen looks good enough, so you are very unlikely to want to change it.
| | |
| --- | --- |
| "...We called the HTC TouchFLO in the HTC TyTN II a nice touch. Now with the HTC Touch Cruise, the new version has much more to offer. This is probably the most important plug-in on the device and it is even better that it comes preinstalled. The new TouchFLO technology greatly improves the user-friendliness and pretty much sidelines the stylus for navigating your PocketPC..." | ADVERTISEMENTS |
We called the HTC TouchFLO in the HTC TyTN II a nice touch. Now with the HTC Touch Cruise, the new version has much more to offer. This is probably the most important plug-in on the device and it is even better that it comes preinstalled. The new TouchFLO technology greatly improves the user-friendliness and pretty much sidelines the stylus for navigating your PocketPC.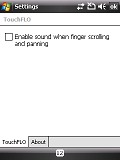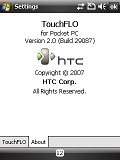 The TouchFLO in HTC Touch Cruise works like a charm
The TouchFLO technology is basically a software enhancement that allows the touch screen to recognize the difference between using the stylus and using your finger. It enhances user experience by allowing smooth scrolling with fingers. Without it, finger-scrolling of lists or web pages would've been impossible, leaving the side scrollbar as the only option.
Furthermore the Touch Cruise is much more sensitive and easy to control than HTC Touch for example. A slight touch on the screen is now more than enough and you no longer need to squash the surface to get the device to accept your command. All in all, the touch experience with the HTC Touch Cruise is second only to the Apple iPhone.