Music player iPod style
The Touch Pro has a good music player, which makes heavy use of album art. The music player is accessible straight from the TouchFLO home screen with a cool iPhone-like cover flow animation for you to pick an album.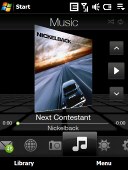 The attractive music player runs directly from the home screen
In case you want to filter tracks by other criteria beside album, the Library shortcut will take you to the player backend where you can sort music by artist, genre, composer, purchased tracks or simply create custom playlists. The visual interface of the library is fluid and stunningly reminiscent of iPhone's very own music player.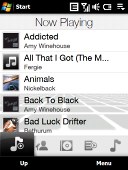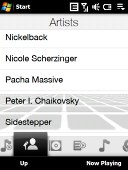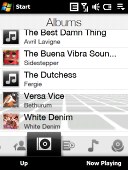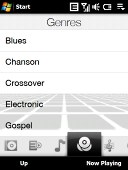 The music library: Now Playing tab • artists tab • albums tab • genres tab
Equalizer presets are available only when you have the headset plugged in. They are not part of the music player itself but of a separate application called Audio Booster. That setup allows you to make use of the presets when you watch videos or even when you listen to music on an alternative player.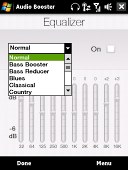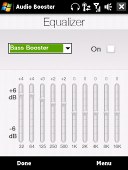 The Audio Booster app is a system wide setting
Unfortunately, there is no 3.5mm audio jack on the Pro or on its headphones, so unless you get hold of a third-party adapter, you're stuck with the supplied headset, which - simply put - sucks. The headset does look good, but listening to music is not among its strengths - it's best left for making phone calls.
Audio quality
You'd hardly ever hear us praise Windows Mobile devices for their audio quality. Most have so far got away with way below-par audio output thanks to their business mindset. However, with passable results of the Diamond in mind we did hope the Touch Pro won't be a disappointment either. It did bring a nice surprise, surpassing the Diamond in almost every single reading. The differences aren't huge but they are still a step in the right direction.
It seems though that HTC have put some sort of a high-pass filter in the Touch Pro, hence the frequency response graph you can see posted below. Compared to the Diamond, the Touch Pro is closer to the real thing but still far from the best.
| | | | | | | |
| --- | --- | --- | --- | --- | --- | --- |
| Test | Frequency response | Noise level | Dynamic range | THD | IMD + Noise | Stereo crosstalk |
| HTC Touch Pro | +0.35, -1.12 | -85.3 | 87.9 | 0.027 | 0.267 | -86.3 |
| HTC Touch Diamond | +0.42, -2.46 | -84.0 | 87.0 | 0.023 | 0.338 | -85.6 |
| Samsung i900 Omnia | +0.37, -1.15 | -79.3 | 79.3 | 0.0039 | 0.027 | -78.7 |
| Asus P750 | +0.55, -3.34 | -86.3 | 86.2 | 0.0081 | 0.926 | -76.2 |
| LG KS20 | +0.80, -3.60 | -85.6 | 88.7 | 0.063 | 1.310 | -86.7 |
| Nokia N81 | +0.39, -1.13 | -86.6 | 85.8 | 0.041 | 0.040 | -69.9 |
| Samsung U600 | +0.41, -1.12 | -89.2 | 86.5 | 0.0040 | 0.019 | -86.9 |
| Apple iPod | +0.41, -1.16 | -91.6 | 91.8 | 0.0043 | 0.015 | -83.6 |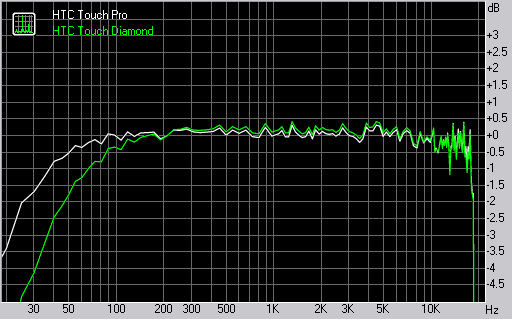 HTC Touch Pro and HTC Touch Diamond frequency response graphs
You can learn more about the whole testing process here.
There's an FM radio, too
The Pro's built-in FM radio naturally requires the headset to be plugged-in. As we already told you however, you would be better off using a third-party headset with some sort of 3.5mm audio adapter, as the original set is not well suited for listening to music.
Nevertheless, the Touch Pro FM radio has an excellent interface much like the rest of the multimedia players on board and offers memory for some 20 radio stations.
RDS is available too - so overall, it's a nice job.
Portable video player
The HTC Touch Pro has a nice video player but it only supports the video/audio codecs available to Winodws. To enjoy a more versatile video support on the Pro (DiVX or XViD for example), you will probably need to purchase a dedicated video player, which has support for more file types than the stock variety.
We resorted to the well-known Core player, since the free TCPMP player didn't run on the handset, probably due to some compatibility issues with Windows Mobile 6.1.
The HTC Pro is pretty good at near VGA-res XviD video playback - we played an XviD encoded DVD rip for PC playback and, luckily, there were no skipped frames. Credit probably goes to the dedicated graphics chip. We are glad that HTC have finally sorted the video performance issues that plagued their previous generation of devices.
The Pro VGA display did count here: the video looked excellent, well ahead of other devices. We guess the Pro is a sealed deal for movie aficionados.