HTC is now taking pre-orders for the Steam-powered Vive VR headset, as promised. Earlier today we told you about the international pricing of the HTC Vive - the VR headset costs $799 in the USA, €899 in Europe, $817 in Australia, CAD 1,149 in Canada, £689 in the UK, and CNY 6,888 in China.
The pre-orders are opened to everyone, and you can place your order for the Vive right now. Most of the markets will be getting the Vive this April while the first units in Australia will be dispatched in May.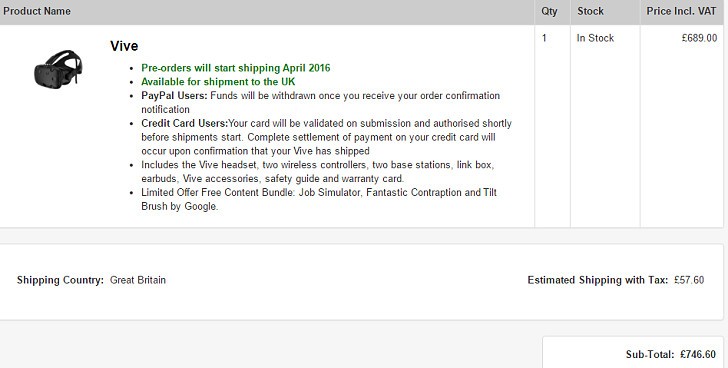 Beware of the shipping costs, though, as they turned out to be quite steep. You will have to add €60 for shipping in Europe, $110 in Australia, £58 for the UK, $30 in the USA.
If you want to pre-order your HTC Vive, you should head to official store.
?
You must be joking i assume... vive puts oculus in the corner of the room crouched and afraid... :) If you talking about price tag... yeah its way too high but they will sell and a lot
?
So, can we just confirm that Oculus have probably won this tech battle? I'm sorry Vive, you will join the ranks of HD-DVD, Betamax and many other noble, fallen heroes.
D
What???is HTC out of their minds.its costlier then their flagship phones...lol