Kirin 980 premieres on the Mate 20 series
Huawei Mate 20 and Mate 20 Pro are the first smartphones to utilize HiSicon's latest Kirin 980 chip. That the first chipset in an Android phone built on the 7nm manufacturing process promising plenty of power and efficiency gains over its predecessor and other 10nm chipsets.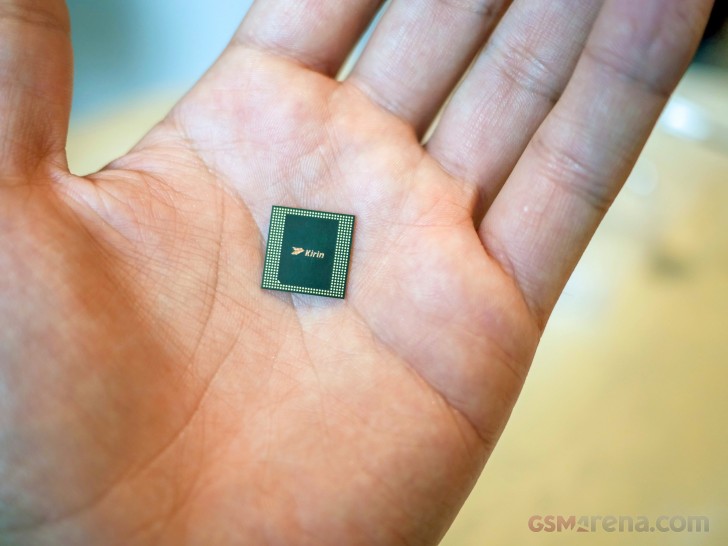 The Kirin 980 uses an 8-core CPU design with 2x high-performance Cortex-A76 cores running at 2.6GHz and 2x Cortex-A76 cores clocked at 1.92GHz and 4x power-efficient Cortex-A55 cores that go up to 1.8GHz. The processor makes use of ARM's DynamIQ architecture, which is the evolution of big.LITTLE and allows any subset of cores (or all together) to work simultaneously depending on the workload.
Kirin 980 SoC uses a Mali-G76 MP10 (ten-core) GPU which was announced back in May 2018 offering tremendous performance and efficiency gains compared to its predecessor Mali-G72 in the Kirin 970. According to the press release, the GPU outperforms the previous generation by 46% and improves the power efficiency nearly twice. It can also take advantage of the new clock-boosting technology that recognizes when a demanding game is running and provides optimal gaming performance.
EMUI 9 supports GPU Turbo 2.0, which is supported by six games so far. It allows all of those games to run smoothly and steady at 60 fps at full resolution. GPU Turbo 2.0 is new, but Huawei is also working with game developers to enable it in even more popular games.
Huawei points out that the Kirin 980 outperforms the 10nm chips by 20% and it's 40% more efficient at the same time.
The 7nm manufacturing process isn't its only claim to fame. The chipset is also the first to support 2133MHz LPDDR4X memory and incorporates a dedicated dual NPU chip. Huawei calls the latter "Dual-Brain Power" and can help recognize up to 4,500 images per minute, which is around 120% faster than last year's single NPU chip on the Kirin 970 SoC.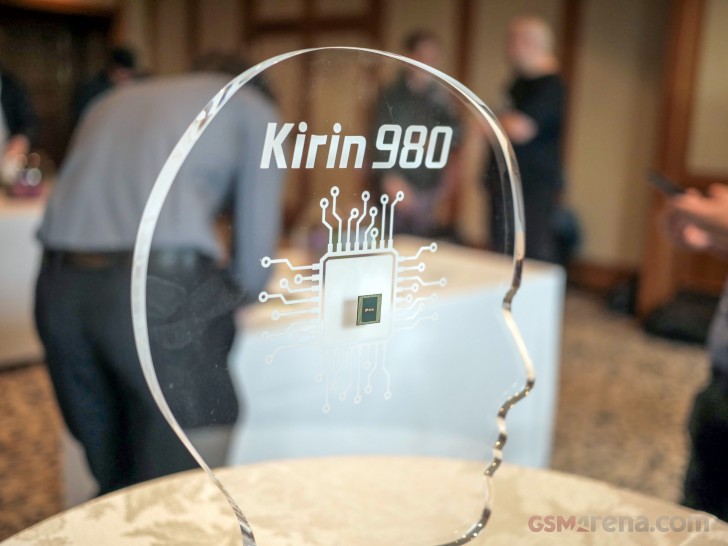 Other notable features include 6.9 billion transistors crammed inside a 1cm² die (1.6 times more than its predecessor), 1.4Gbps Cat 21 LTE modem and blazing fast WiFi speeds of up to 1,732Mbps peak download/upload speeds.
Finally, the chipset comes with a new Image Signal Processor, which delivers a 46% increase in data throughput and better multi-camera support. It promises an improved HDR color reproduction, Multi-pass noise reduction that removes artifacts without hurting with the image details and better motion tracking.
Now off to some number-crunching. We start off with the GeekBench CPU test and the Mate 20 Pro easily comes on top of the pile, when it comes to multi-core performance. Its single core result came just short of the Mongoose cores of the Galaxy Note9.
GeekBench 4.1 (multi-core)
Higher is better
Huawei Mate 20 Pro
9882
Samsung Galaxy Note9
9026
LG V40 ThinQ
8769
Google Pixel 3 XL
7712
Huawei P20 Pro
6679
GeekBench 4.1 (single-core)
Higher is better
Samsung Galaxy Note9
3642
Huawei Mate 20 Pro
3333
LG V40 ThinQ
2425
Google Pixel 3 XL
2363
Huawei P20 Pro
1907
The compound AnTuTu brought more reasons for Huawei to smile as its top dog once again came best of the bunch.
AnTuTu 7
Higher is better
Huawei Mate 20 Pro
271152
LG V40 ThinQ
270634
Samsung Galaxy Note9
248823
Huawei P20 Pro
209884
The graphics performance was a tad less impressive. In terms of sheer power the Mate 20 Pro got a first, a second and a third places in the three tests despite facing the most elite of Android competition. However, it's taller screen and higher resolution meant it wasn't doing as hot in the onscreen tests.
Still, the GPUs of Kirin chipsets were miles behind the competition for years, so the fact that the Mate 20 Pro can now trade blows with the best out there is a win in itself.
GFX 3.0 Manhattan (1080p offscreen)
Higher is better
Huawei Mate 20 Pro
85
LG V40 ThinQ
79
Samsung Galaxy Note9
75
Google Pixel 3 XL
72
Huawei P20 Pro
66
GFX 3.0 Manhattan (onscreen)
Higher is better
Huawei P20 Pro
55
Huawei Mate 20 Pro
50
LG V40 ThinQ
47
Samsung Galaxy Note9
46
Google Pixel 3 XL
39
GFX 3.1 Manhattan (1080p offscreen)
Higher is better
LG V40 ThinQ
59
Huawei Mate 20 Pro
53
Samsung Galaxy Note9
45
Google Pixel 3 XL
44
Huawei P20 Pro
40
GFX 3.1 Manhattan (onscreen)
Higher is better
Huawei P20 Pro
37
LG V40 ThinQ
30
Huawei Mate 20 Pro
27
Samsung Galaxy Note9
25
Google Pixel 3 XL
24
GFX 3.1 Car scene (1080p offscreen)
Higher is better
LG V40 ThinQ
35
Samsung Galaxy Note9
28
Google Pixel 3 XL
28
Huawei Mate 20 Pro
28
Huawei P20 Pro
23
GFX 3.1 Car scene (onscreen)
Higher is better
Huawei P20 Pro
21
LG V40 ThinQ
18
Huawei Mate 20 Pro
17
Samsung Galaxy Note9
15
Google Pixel 3 XL
12
EMUI 9
The Mate 20 duo will ship with Android Pie out of the box and it will feature EMUI 9.0. Huawei has cleaned up the general interface and the settings panel has been simplified by hiding rarely used settings under advanced in more categories. Huawei's built-in apps are also seeing updated navigation menus along the bottom of the screen to make them easier to reach.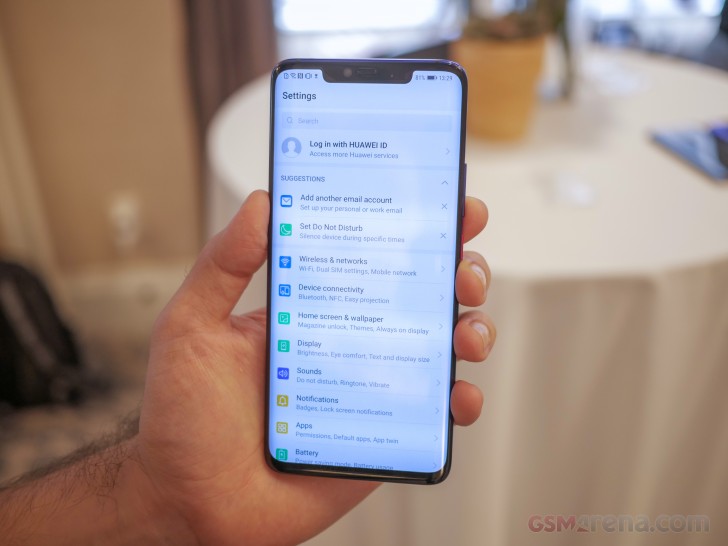 The EMUI 9.0 brings GPU Turbo 2.0, quicker app starts and Password vault. The Mate 20 Pro supports app locking with face authorization.
Huawei Share can now do two more things wirelessly: share files with a PC and print documents. There is also a travel assistant by HiVision and in-house developed Digital balance app that tell you how much time you are spending on your phone and give you the option to limit yourself (the screen will go monochrome after the time is up).