Seven cameras between these two phones
The Huawei P20 Pro has three cameras on its back, the Galaxy S9+ makes do with 'just' two, and the phones have a single selfie camera each - a total of seven cameras we have on our plate. It almost feels like a missed opportunity - we've seen models with a pair of front-facing cameras, but not these two.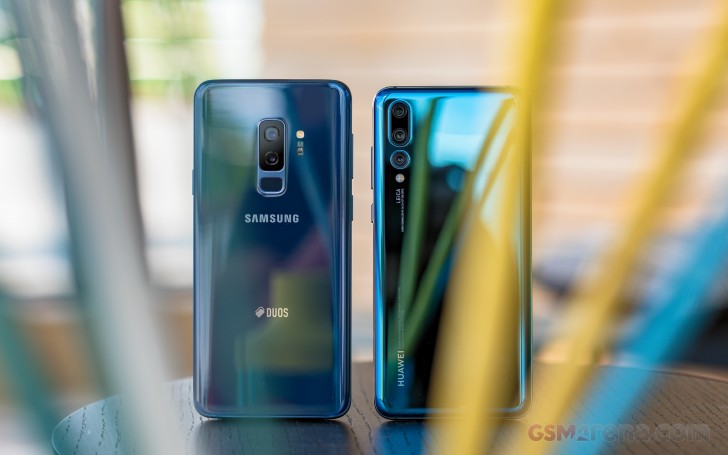 Two cameras are too mainstream, Huawei thought, and installed three on the P20 Pro. Logically the star of the show, the P20 Pro's number one shooter packs 40MP on a large 1/1.7" sensor - Samsung's 1/2.6" one may be large when compared to others, but it's tiny next to the Pro's. Then again, as we pointed out, the 40MP shooter does not, in fact, have 40MP of color resolution, but is instead meant to capture two different exposures simultaneously and produce better looking 10MP images. The physical size advantage still stands, however.
The 40MP sensor has a 27mm-equivalent stabilized lens in front with an f/1.8 aperture - quite bright given the sensor size. Big sensor and wide aperture make for a larger camera bump than what we're used to. Might as well stick a telephoto camera in there - an 8MP sensor behind an 80mm-equivalent lens with an f/2.4 aperture. The matter of lens equivalence is a bit moot, however, as you're getting 10MP images in 3x mode - there's something going on under the hood that the numbers don't explicitly reveal.
Joining these two is the good old 20MP monochrome camera, with its own dedicated and much smaller bump. 27mm-equivalent f/1.6 aperture lens on this one, the spec sheet reads. As with all high-end Huawei cameras of late, the hardware and software on the P20 Pro is a joint effort between Huawei and German optics specialists Leica.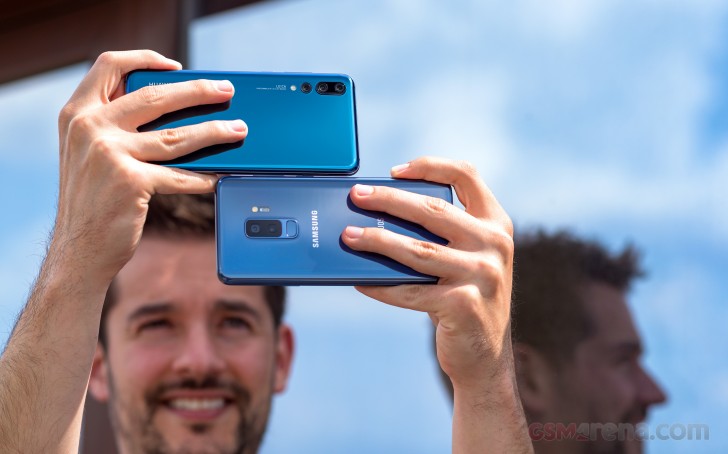 For autofocus, the P20 Pro can rely on a combination of depth detection from the multiple cameras, contrast and phase detection, and a laser that works at up to 2.4m. A light temperature sensor should assist with white balance, while a single LED flash is there to illuminate your subject in the dark.
In comes the Galaxy S9+. A more conventional, dual camera, the one on the Galaxy still has a unique trick of its own - the primary shooter can pick between two apertures depending on the shooting conditions, either f/1.5 or f/2.4. The angle of view is equal to that of a 26mm lens on a 35mm camera. Behind the lens, it's another iteration on the 12MP 1/2.6" sensor with 1.4µm pixels and dual pixel autofocus.
The secondary rear cam is based on another 12MP sensor, albeit a smaller one, with 1.0µ pixels. This lens has a fixed f/2.4 aperture and is stabilized, just like the wide-angle one. The angle of view matches that of a 52mm lens in 35mm camera terms making for a neat 2x zoom.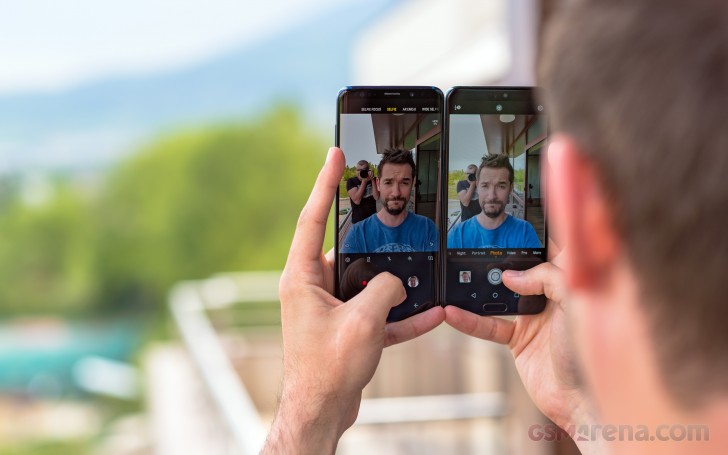 Moving on the front of the phones, the P20 Pro has three times the resolution of the Galaxy, on paper at least - 24MP vs. 8MP. Huawei's 26mm-equivalent f/2.0 aperture lens is slightly narrower and dimmer than the 25mm f/1.7 one on the S9+ but, more importantly, the Galaxy has autofocus and the Pro doesn't.
Camera apps
The Galaxy's latest app is a bit too much like Apple's camera app, but its intuitive and easy to use. Side swipes switch between shooting modes, including Auto, Portrait, Panorama, Pro, and Super slow-mo, and you can add, remove and rearrange the modes. What you can't do, however, is have a dedicated video mode - we'd prefer a separate viewfinder instead of the press-and-hold the record button for preview that Samsung insist is the right way.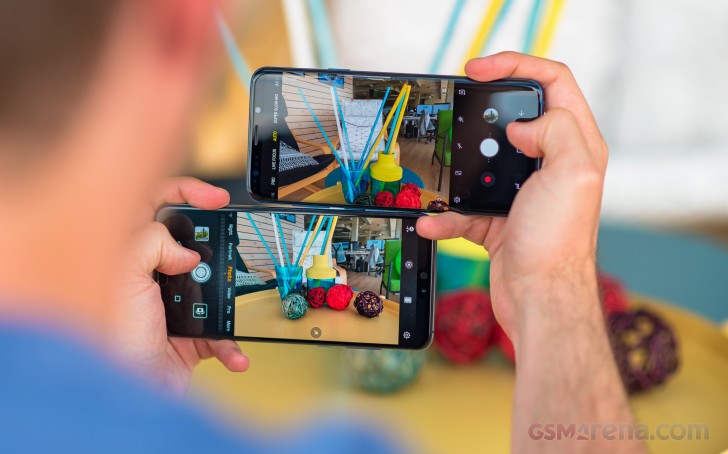 An up/down swipe will switch between front and rear cameras, which is handy and we feel should be the default action in every camera app. There's a Pro mode which lets you adjust pretty much all photographic parameters, including (and that's unique to the S9 and S9+) aperture.
The P20 Pro's camera app is a bit more scattered and confusing and lacking in convenient swiping functionality - front/rear camera requires a tap, and switching modes needs to happen with a slide in the modes bar instead of anywhere on the screen.
Access to the monochrome camera has been hidden in the More position of the mode slider - B&W shooters may find it too roundabout.
There's a Pro mode where you can manually adjust shooting parameters, just like on the Galaxy. There's also an Aperture mode and Portrait mode, both meant to do subject isolation and faux bokeh. The former lets you choose the aperture value being simulated - lower f-number leads to more blur. The latter is geared towards human subjects and you get settings for beautification and simulated lighting.
We should mention that we found ourselves battling Huawei's Master AI scene recognition more often than we enjoyed its results, so it might be wiser to leave it off. Taking a more natural image and adding dramatic filters in post processing seems like the better idea.