Huawei P30 Pro gets another software update, enables dual-view camera mode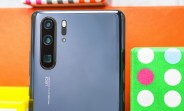 Huawei just won't stop updating the P30 Pro and we are not complaining. While the last update that rolled out in India was mainly focused on improving the user experience, this one revolves around a cool camera feature - the so-called dual-view mode.
The feature was advertised during the announcement of the phone but it's only now that we are seeing it reach users. It comes with the EMUI 9.1.0.153 update and as for now, it's only available in China. It will surely make its way outside the country, though.
You can see what the dual-view camera mode is all about in the video below, but it basically stacks two videos next to each other - one recorded through the primary lens and the other one with the zoom camera.
Oh, and April's security patch is bundled too. Here's the full changelog.
Adds Dual-view mode to Camera, allowing you to view the panoramic and close-up video images while recording.
Adds Charming portrait mode to Camera, allowing you to take portrait photos with more appealing blurring effects.
Automatically generates highlight reels, applies effects templates, and creates MVs.
Integrates Google security patches released in April 2019 for improved system security. For more information on the security of Huawei EMUI system updates, please visit the official Huawei website.
v
Still no update on mine since purchase the unit:(
H
The jpeg: https://imgur.com/nSVcTaj The raw converted to jpeg without edit on Lightroom: https://imgur.com/BVePydJ and that on every single raw I take, same thing with mate 10 pro. At least, the camera is far better than the mate 10 pro...
S
Nope, no vignettes. Pictures are getting a bit softer at corners but that's all.