Huawei Watch D official renders show off the upcoming wearable's design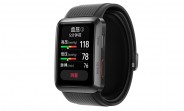 Huawei is clearly gearing up for a big announcement event on December 23. The company is expected to unveil the Huawei P50 Pocket, possibly another clamshell, called the Mate V, though these could turn out to be the same device. A MateBook X Pro announcement is also expected to be part of the event, possibly a pair of smart glasses and last, but not least - the Huawei Watch D.
We've already seen the upcoming wearable, including in live hands-on shots, but we still appreciate this new set of detailed and high-res official renders. The images are part of a pre-order listing on vmall.com. It does not reveal the retail price of the Watch D, only asking for a CNY 100 deposit. Sources suggest that the Watch D will retail for CNY2,998, or roughly $470. Quite the pretty penny.
However, we are yet to learn whether the Watch D will come equipped, out of the box, with all of the accessories it needs for its "killer feature" - blood pressure monitoring. The intriguing feature has already been teased on multiple occasions and, judging by the official renders, will likely be the most prominent selling point of the wearable. Thanks to a leaked user guide, we know that the feature will work with the help of an inflatable strap that attaches to the body of the Watch D and is available in two different sizes. So, we're looking at an actual hardware measurement here instead of what Samsung has on its latest Galaxy Watch4. You can even spot a cover with a screw on the back of the device that houses the contacts for the extra strap. If the Huawei Watch D does indeed come fully equipped with this hardware out of the box, then that price tag we mentioned starts to sound a bit more reasonable.
B
Awesome! Finally, a square case watch with decent specs. Winner
ADVERTISEMENTS