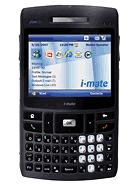 m
i attached a 2GB micro sd to my i-mait.where i can see the memory status? any idea?
?
hey guyz,
this device going to be best smartphone in lower range, look pretty awesome, everyone knows in lower end device where cost of about 10 or 12 k you wont get wifi and 3g.
?
its gonna be the best smartphone ever. WM6, wide screen device, QWERTY keyboard, high quality materials. gonna be the best...
r
no 3g?no ir port?no wi-fi?usb 1.1???the batery will stay alive just 2 days,i'm very sure,what a creap!!!!!the video recording should be vga,if not..............
c
This isn't made to be a totally high end phone. You need to remember that. For a mid ranged phone, this is great.
?
This is not the first computer with a VGA screen how about the Eten glofiish X500+ !!!!!!!!!!!!!!!!!!
Z
VGA screen with a wimpy CPU?? that thing better have a graphic chip or it's doomed me thinks
Total of 90 user reviews and opinions for i-mate JAMA 201.