Introduction
Our latest smartwatch review is a little different. For starters, imoo Watch Phone Z1 is aimed at children and offers a SIM slot for fully independent calls from the watch itself. Watch Phone Z1 comes after the Watch Phone Z6 and contrary to what the numbers might imply is the latest offering from imoo – a BBK Electronics subsidiary focusing on kid-friendly wearables.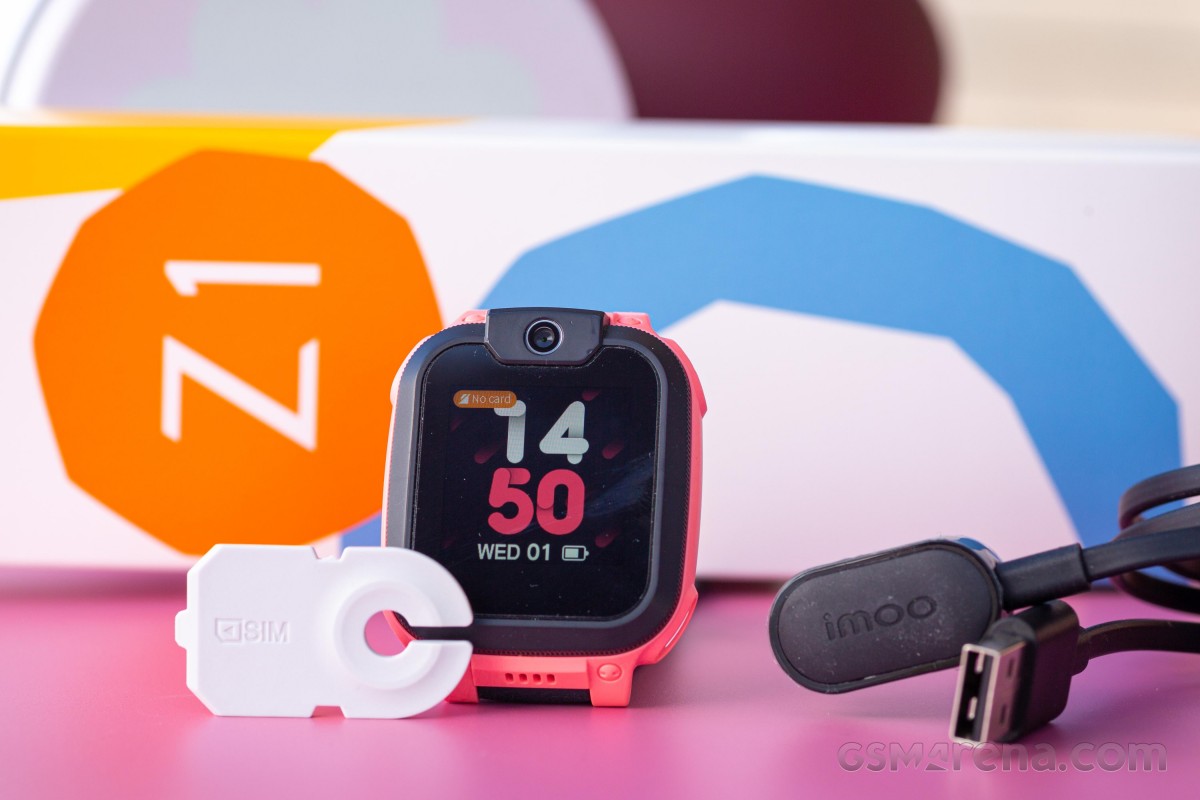 Watch Phone Z1 boasts a built-in 2MP camera that allows for video chats and a rugged IPX8-rated body that should withstand the occasional drop and splash. The watch is targeted at kids aged between 5-12 and emphasizes safety and security with effortless communication to their parents' phones. There's an onboard GPS module too which helps you locate junior in real-time.
Is this the right smartwatch for your kid or are you better off with a full-fledged smartphone, how does the software hold up and is the $99/€119/£99 pricing justified here? Let's take a deeper dive into the imoo Watch Phone Z1.
Design and specs
My initial impression once I unboxed the Z1 is of a sturdy and well-put-together watch. It's a solid unit made from hard plastic with a TUV-SUD certified body and 22mm strap with a faux leather look and plenty of perforations for breathability. The whole package is IPX8 water-resistant and weighs in at 51 grams which given the sheer size of the watch is actually quite an accomplishment. Still, it does stick out on my wrist and I am pretty sure it will look huge on the wrists of elementary school kids too.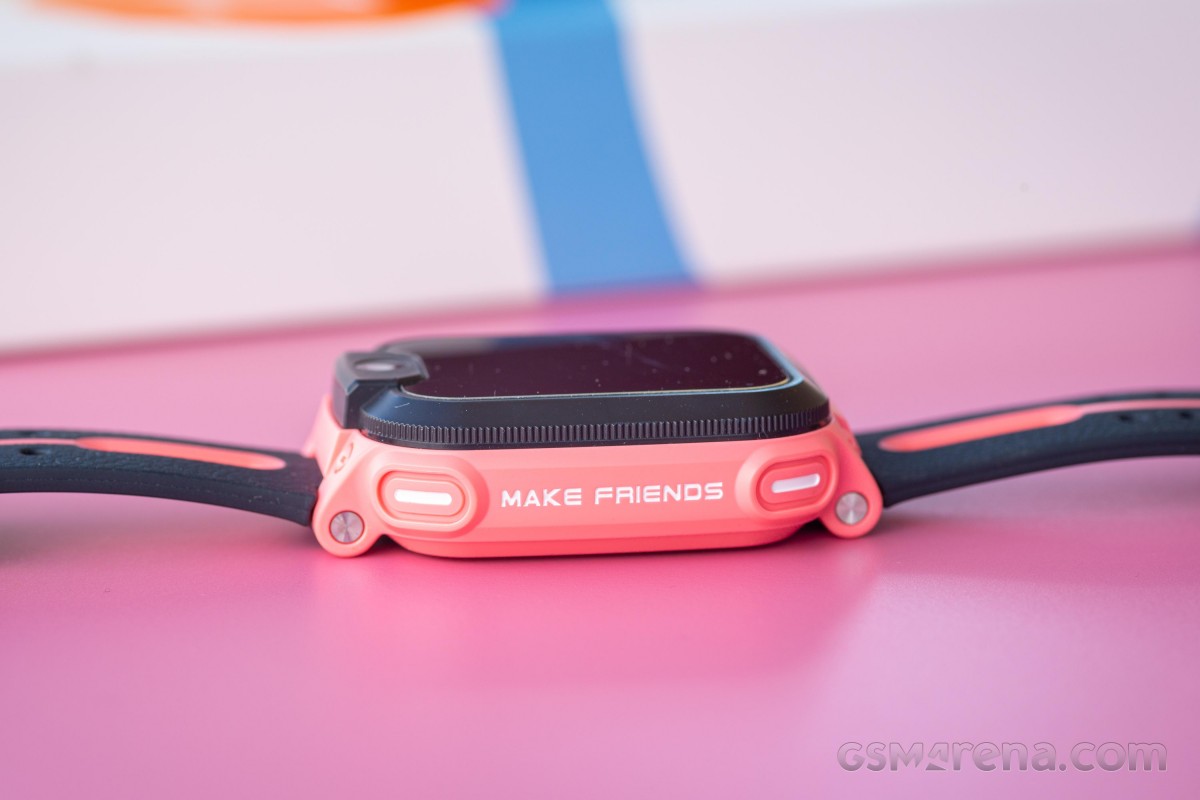 One thing I would have appreciated is some physical buttons even though the swipe navigation on the 1.3" TFT LCD is well executed. The display comes with a pre-installed screen protector and although not the best in bright outdoor light, it gets the job done in almost all other scenarios. Resolution is capped at 240x240 pixels which is perfectly usable on such a small screen. You do not notice major color shifting from different angles which was a welcome surprise. There is no auto-brightness which is a bit of a letdown.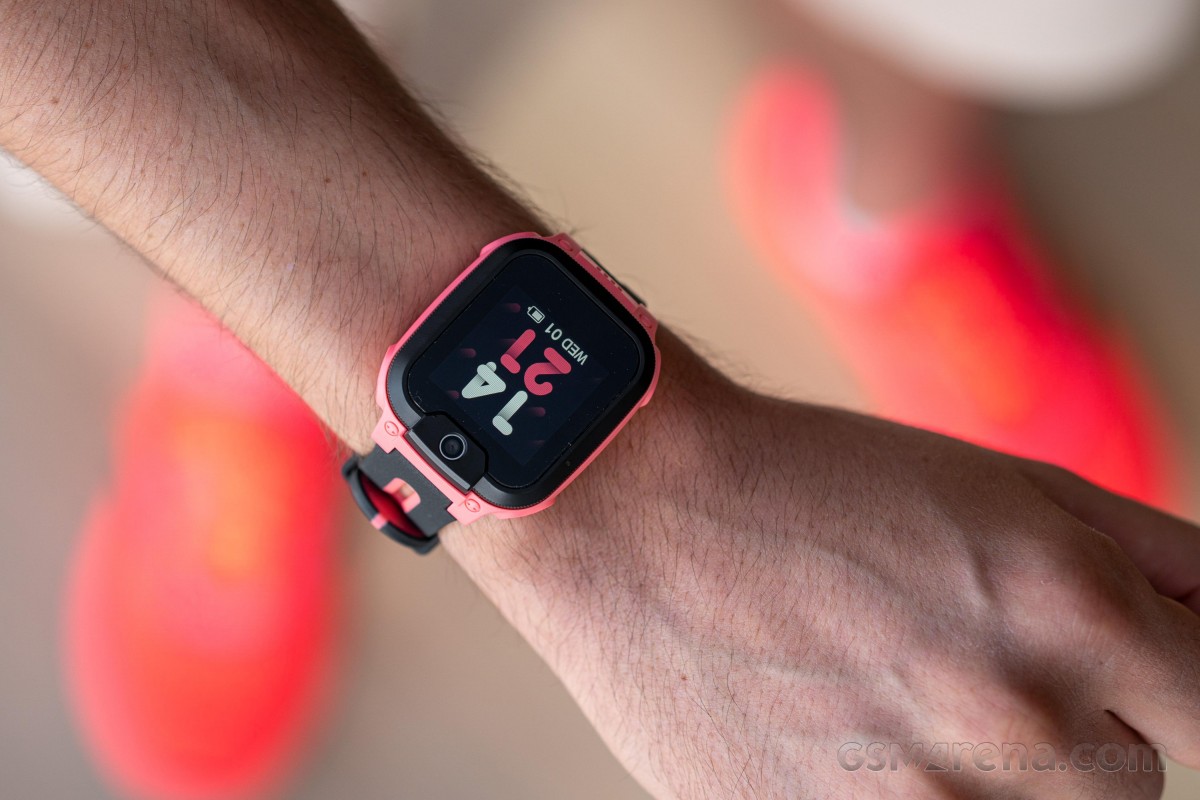 Another highlight of the Z1 is its 2MP camera with f/1.4 aperture and autofocus. Combined with the 4G LTE data connection you are able to constantly reach the watch from your phone and vice versa which will certainly bring a peace of mind for anxious parents. Photos snapped on the Watch Z1 are not going to win any photography awards but they get the job done.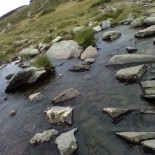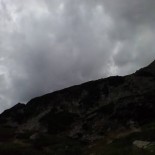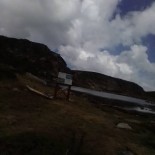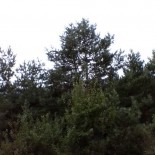 2MP stills from imoo Watch Phone Z1
The watch also comes with an onboard speaker, microphone and built-in GPS receiver. Charging is handled via a proprietary magnetic charger that ends with a USB-A port. The power button is strangely mounted on the watch casing's back next to the nanoSIM slot and is quite small and thus hard to press. Our review unit comes in the vibrant Grapefruit Red color though there's also a more subtle Bamboo Green option.
Communication
Once you set up the imoo companion app on your smartphone (available on the App Store and Google Play) and bind the watch by scanning a QR code on its screen, you're good to go with using the watch. You'll also want to insert a compatible nanoSIM card in the watch and you can easily pop off the water-sealed gasket with your finger or make use of the provided SIM removal tool.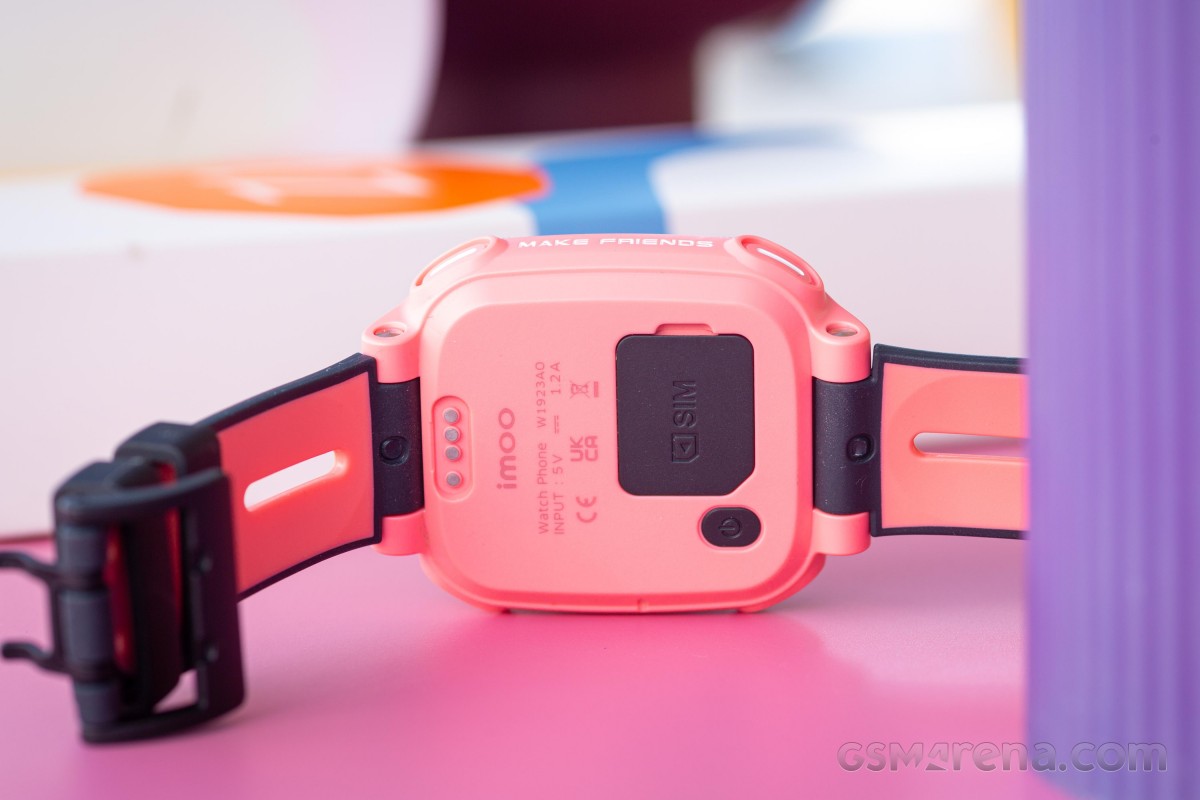 After the initial setup is complete, you simply add the SIM card number on the watch and you're all set. A big selling point of the Watch Phone Z1 over a smartphone is that it does not give your kid access to open internet, social media and calls from phone numbers that aren't excplicitly whitelisted by you. There's a bevy of meaningful parental controls that prevent outside contacts as well as a class mode that disables calls and messages on the watch and prevents your kid from calling you during class time though the parent can still reach them from their phones.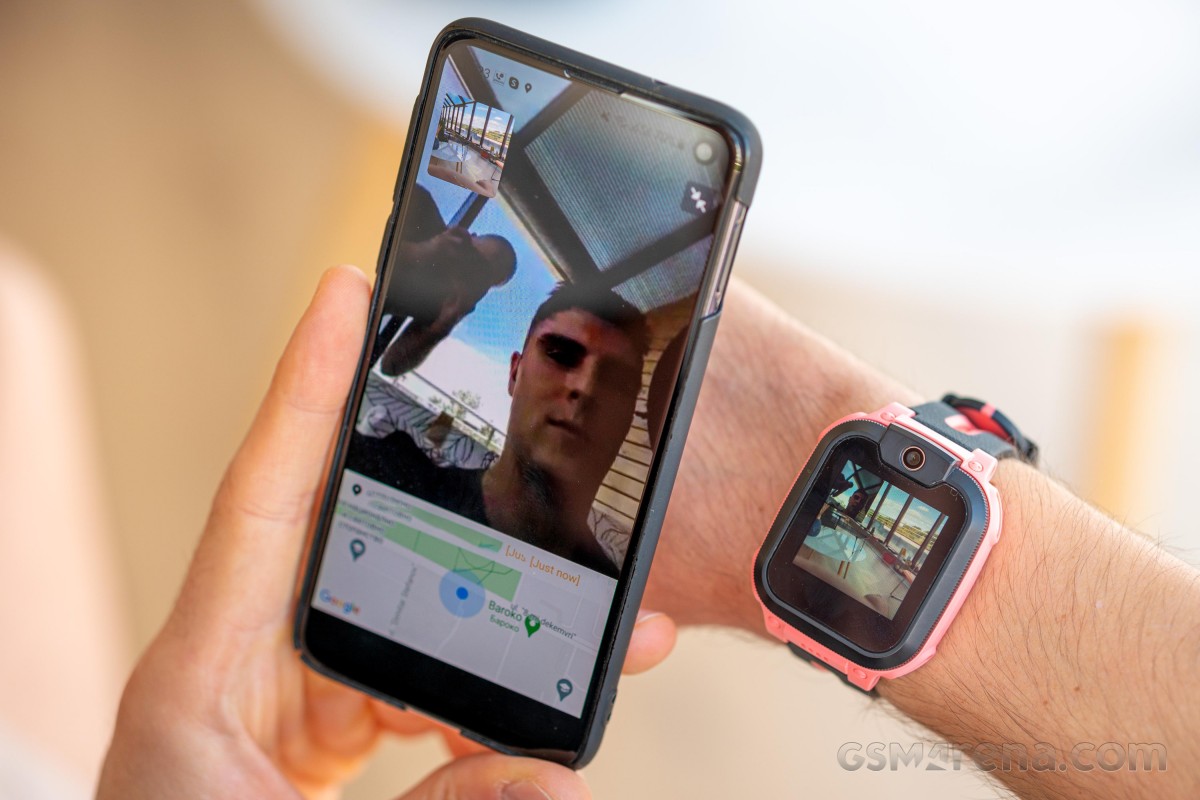 Like last year's Watch Phone Z6, the Z1 uses imoo's proprietary app for text, voice and video chats. Since it works similarly to a messaging client on both your phone and the watch video calls won't balloon your monthly phone bill. This is another strong selling point for the Z1 over competitors.
Parents and their kids can exchange voice messages which is handy if the kid can't read or write yet. There's also plenty of stickers and emojis at your disposal and the parent can also send out texts from the imoo app though the same is not applicable on the watch as it does not have an onboard keyboard.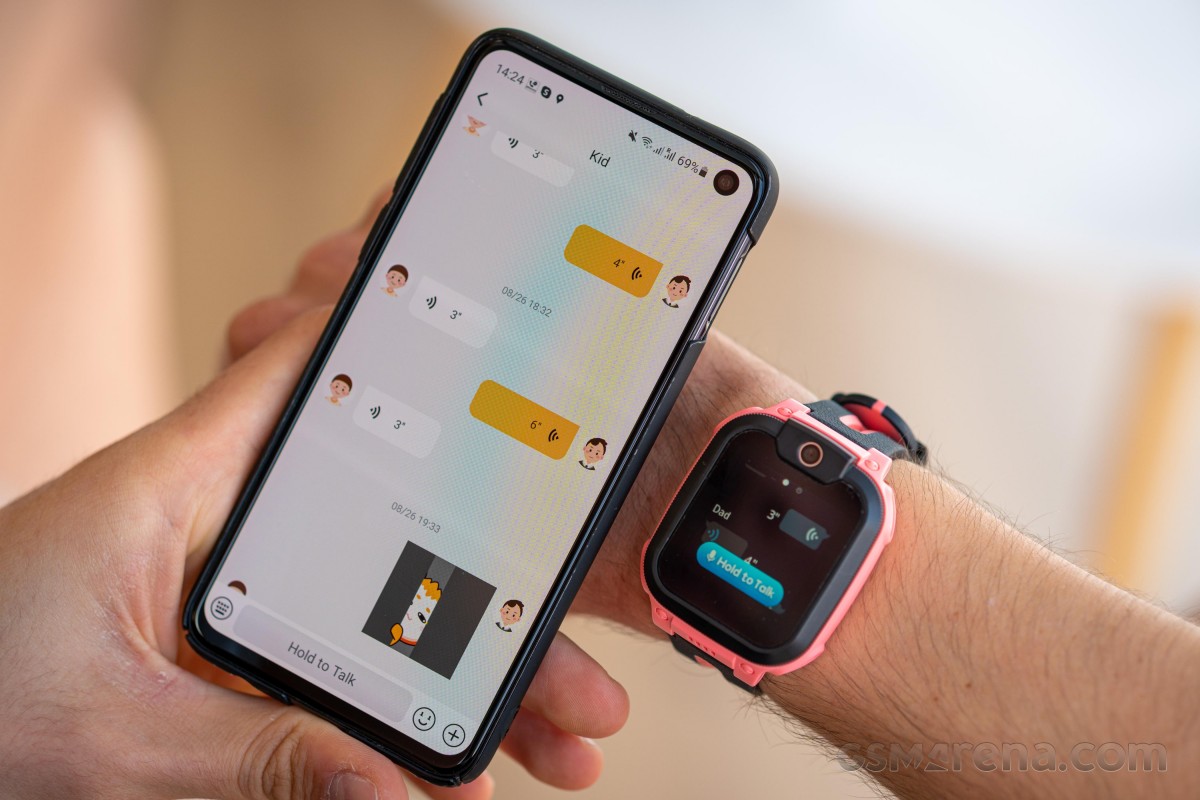 You also get a live GPS location of the watch during video calls so you know just where your kid is. There's an option to add other family members in a group chat with the kid too. Adding contacts that can reach the watch without the imoo app is also possible though they are limited to regular voice calls and SMS messaging.
Software and companion app
Mocor OS is the operating system on the imoo Watch Phone Z1. It's a fairly basic fork of full-fledged Android with the usual smartwatch functions and an easy-to-navigate interface with large colorful icons. Installing third-party apps is not an option here. Since there are no physical buttons on the watch (other than the power button on its casing) you operate the interface with swipes. Everything works surprisingly well though as I said earlier I am more of a fan of having tactile controls on smartwatches and I believe it would be better for kids to have buttons they can press.
You double-tap the display to wake it up and immediately get to the time. There's a total of five watch faces to chose from though they only show the time, date and battery level. None of the watch faces give out the actual battery percentage which is a bit of a letdown and you can only know the exact percentage when you plug in the watch on its charger.
Swiping from the top reveals your notifications, a swipe to the right gets you to your contacts with the option to go into a voice or video call directly while a swipe in the opposite direction gets you to the app menu. Going back in any app is performed by swiping in from the left side of the display. The watch comes with chat, step tracking, camera, gallery, alarm stopwatch and settings. The Z1 also comes with an Add Friends app which lets your kid add other imoo watch users by bumping the two devices. I did not get to test out this feature sadly.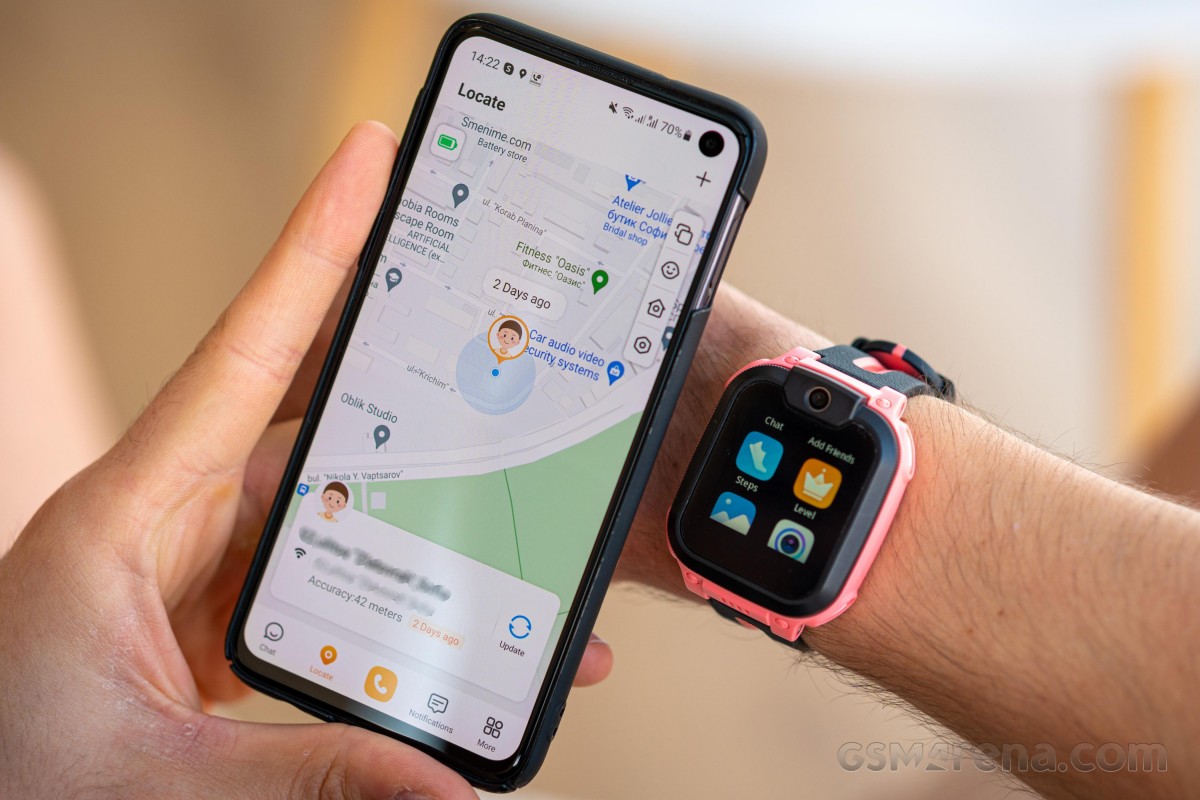 The onboard Spreadtrum UWS6131E chipset runs fine and I did not experience any noticeable lag or unusual behavior in my one week with the Z1. According to the official spec sheet the watch has 128MB of RAM and the same amount of storage which will likely fill up fast if your kid likes to take a lot of photos.
Moving to the imoo companion app, it's pretty feature-rich and fairly well laid out. I did notice some poor translations from Chinese to English which seems like a common theme for imoo as the same remark was noted in our Watch Phone Z6 review. The phone app also crashed a few times after the initial setup though no data was lost in the process. I did not notice any significant impact on my phone's battery life even though imoo's app was constantly running.
Battery life
The advertised battery life on the Watch Z1 is three days of mixed usage. In reality, I regularly got two full days of use with a 4-5% charge heading into day three. My use case included the following settings and use patterns:
Default watchface
Display brightness set to 66%
Constant cellular and Wi-Fi connection
GPS turned on
Several text and voice/video calls for testing purposes
Snapping up random photos with the watch camera
Plenty of digging though the UI
The 740mAh battery cell took just under two hours to charge from 0 to 100%. The imoo companion app gives out a notification to the paired smartphone each time you charge the watch.
Verdict
The imooo Watch Phone Z1 is a more affordable and less fancy alternative to the already decent Watch Phone Z6. It does plenty for a kids' smartwatch and does most of its tasks reasonably well. The build is solid and IPX8 water-resistant, the watch strap is comfortable and the Z1 can survive two days on a charge with moderate to high use.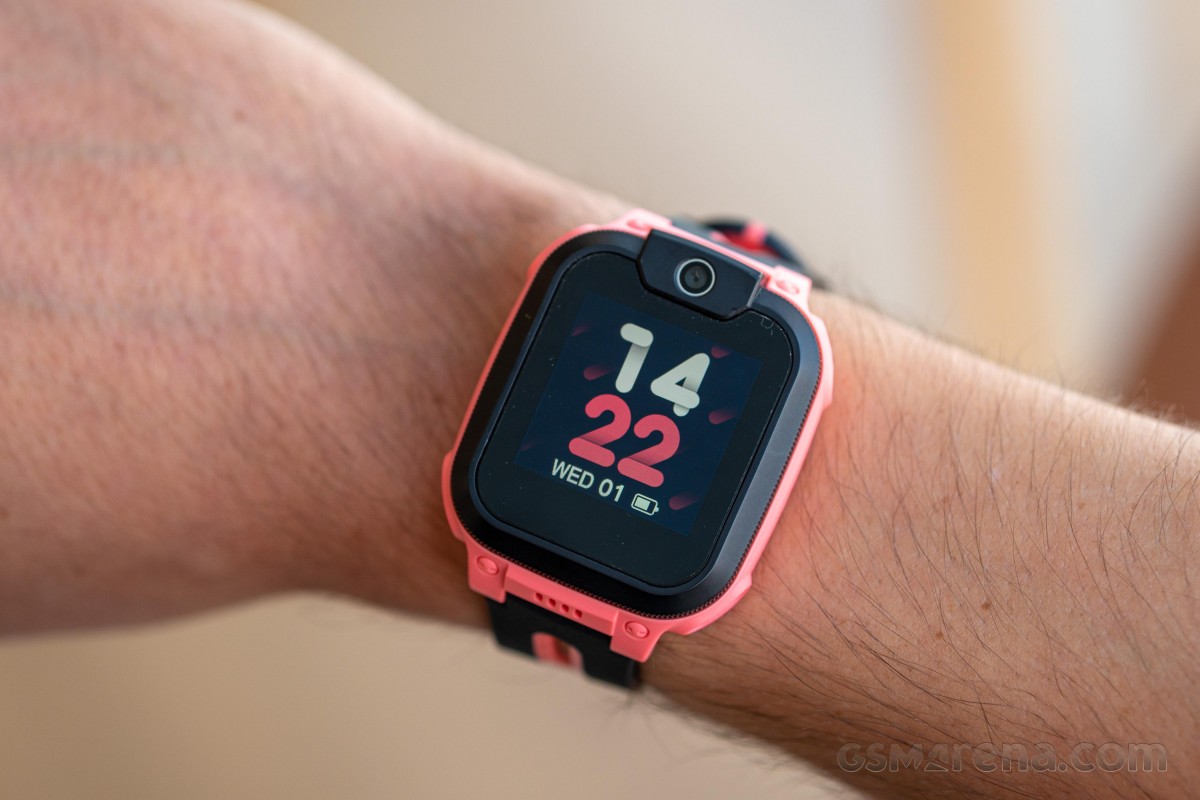 Having the ability to do video calls through imoo's proprietary messaging app and thus not get charged exorbitant amounts by your carrier for native 3G video calls is a rather unique proposition. The added parental controls and security features leave little to be desired and are all strong points of the Z1.
Sure, imoo's phone app still needs some polish and a few extra watch face options and a better display wouldn't hurt but factoring in the price point of the watch, you're left with few alternatives in Western markets. At €114/£99 via imoo's own site or €149/£99 on Amazon, you're getting your kid a feature-rich watch that helps them reach you in a fairly unobtrusive way.
Imoo is currently hosting a back-to-school campaign (valid through September 13) in Europe where buying an imoo Watch Phone Z1 and Z6 in tandem gets you a free imoo Ear-care headset which normally goes for €65/£49.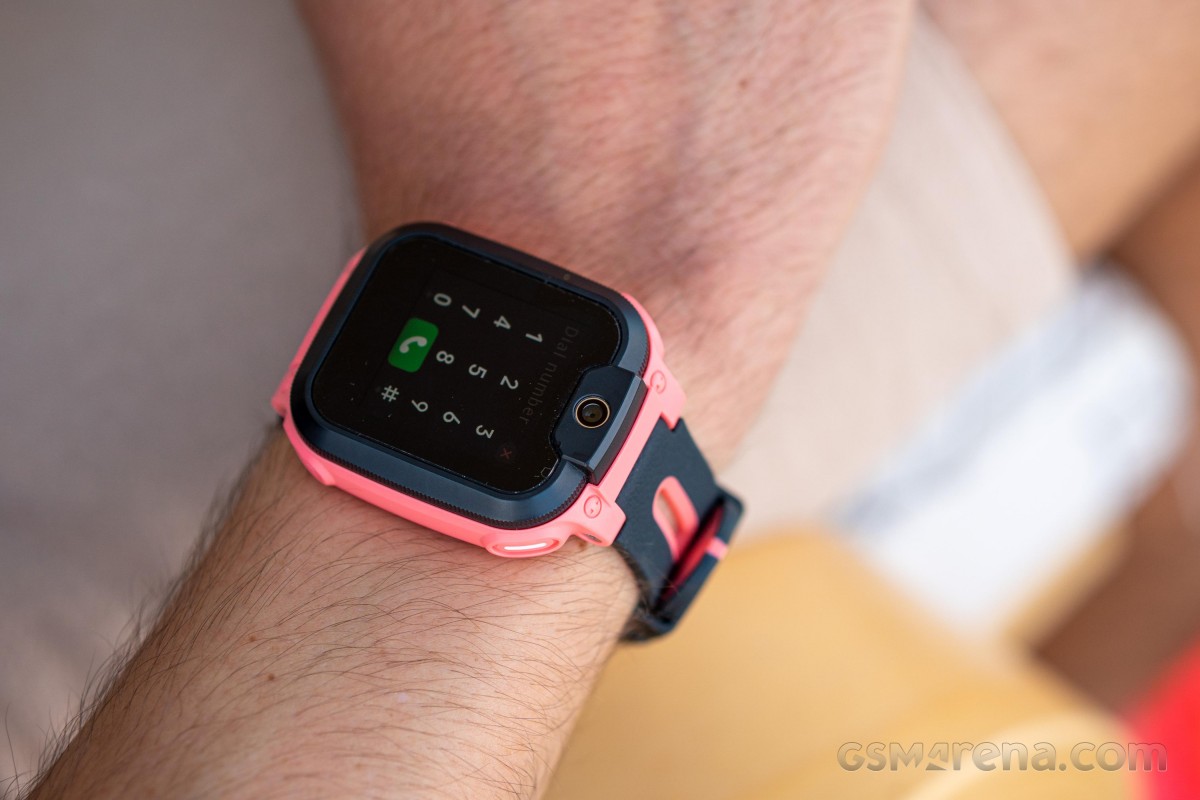 So if you're looking for a way to reach your kid and track their location in real-time without venturing into the smartphone world and all its complications then the imoo Watch Phone Z1 deserves your interest.
?
Good to see a Chinese company that tries to be original and bring something new. Unlike some others who copy whatever Apple does.
?
Masuk akal Power at bottom will more safe than the side
ADVERTISEMENTS