Google tried to re-invent the email inbox with its new Inbox by Gmail app last year and it has gained quite a few followers since. Google kept improving the service and now the Search Giant added a new 'Smart Reply' option to Inbox by Gmail for quickly sending one of the few responses to an email.
The new 'Smart Reply' suggests up to three quick replies which are populated based on the type of emails you receive. For an instance, if you get inquiry about a product or file, the Smart Reply will show three probably answers such as - I will send it to you, I will have to look for it, and I don't have it, sorry. So out of three options, you tap on one and the text gets added to the reply field.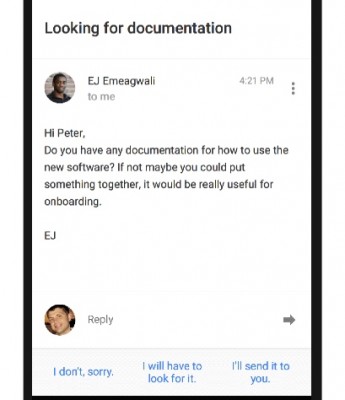 If the feature catches on, the responses will get even better as the algorithm will learn from your usage patterns and improve itself.
Google will start pushing Smart Reply to the Inbox app users via Google Play Store later this week onward.
D
What's with the picture?
?
With signatures on email there is no value.. but with smart reply they now analyze and reading private mails.. basically snopping into all your mails.. Next would be reading the passwords of forgotten sites/ bank acct details / any sensitive data.....
D
inbox cannot even add a signature to the email, and they are talking about smart reply.