Intel has taken the wraps off the 7th generation of Core processors. Called internally as 'Kaby Lake', the new processors are based on Intel's 14nm (or 14nm+) architecture and are a refined version of last year's 'Skylake' series.
The buzzword this year for Intel is 4K, with the company having geared the processors for 4K media consumption and creation. If you're a desktop user and are wondering what's the big deal about 4K encode/decoding then it's worth noting that these new chipsets are primarily aimed at notebook and all-in-one computers, that often come without dedicated GPU and can get all the help they can need for high resolution media processing.
According to Intel, the 7th generation processors are more than 70% faster CPU performance and 3.5x faster 3D graphics performance than a 5-year old PC. Compared to the previous generation Skylake, Kaby Lake provides 12% faster productivity performance and 19% faster web performance. Inclusion of HEVC 10-bit and VP9 decode help improve 4K UHD content playback. Intel claims 1500% faster times for creating and editing 4K UHD files.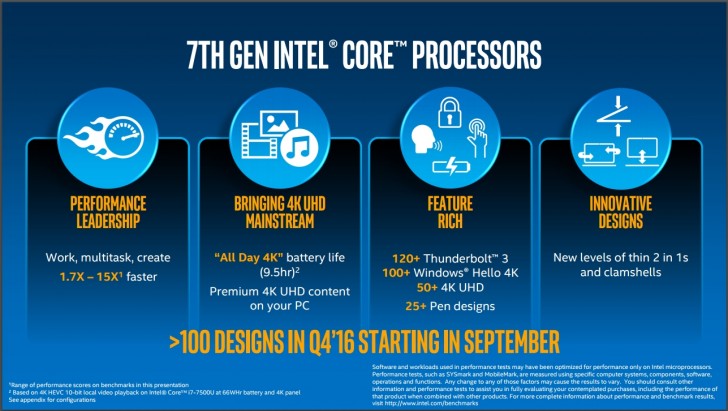 The new processors also come with support native for Thunderbolt 3 over USB Type-C, with 40Gbps bandwidth, dual 4K 60Hz monitor support, 100W power output, external graphics, and Thunderbolt networking support, all over a single cable. You also get support for Gen 3 PCIe support, supporting higher data transfer rates of 8 GT/s versus 5 GT/s with PCIe Gen 2.
Intel is also claiming improved battery life, with 3x battery life improvement claimed over local 4K UHD video playback. The chips also run cooler, enabling more fanless designs.
With today's announcement, Intel has announced the first six processors from the new series. Three of the parts (Kaby Lake-Y) have a 4.5W TDP and are meant primarily for tablets and 2-in-1 devices with dual core CPU and HD 615 GPU, and the remaining three (Kaby Lake-U) parts have a TDP of 15W and are meant for notebooks with dual core CPUs and HD 620 GPU. The Y series parts include an i7, i5, and m3 processor each, and the U series parts include an i7, i5, and i3.
We will be seeing manufactures coming out with new products based on these new processors, possibly even Apple, in the coming months.
?
Really? Snapdragon 600 > 800 > 810 > 820 They are anything but stagnant.
v
aah i see the problem..my original comment was a reply..i was commenting on a i5 5200 or something...not 2nd gen..i said i was typing on my 2nd gen..its now useful for that only..sadly..keeping it because my new laptops don't have dvd drives and i do...
D
you are right in normal activities but when software require more bandwidth you can get 50% or more improvement by using faster ddr4 ram check eurogamer review of i3 6100 http://www.eurogamer.net/articles/digitalfoundry-2015-intel-core-i3-6100...