Test: iPhone X's tele camera night shot proves Apple is wrong to disable it
The iPhone X is the pinnacle of Apple's cameraphones. It improves on the iPhone 8 Plus camera with a superior telephoto module, which has an additional OIS system and a brighter lens (f/2.4 vs. f/2.8).
As you may know, the telephoto cameras of both the iPhone 7 Plus and 8 Plus are disabled in the dark. Instead, 2x zoom is achieved by cropping and then upscaling the image from the wide camera, leading to a soft image with less than expected detail.
So you'd think with the iPhone X's two improvements that benefit the low-light performance, this restriction will finally be lifted. But alas that is not the case.
What is Apple trying to hide? We managed to trick the phone into giving us a night photo from the tele camera to find out.
And the results were a surprise – the tele camera actually produced the much better photo. It's noisy, but it's visibly sharper and preserves detail lost in upscaled image from the wide-angle cam.
Here are the two shots: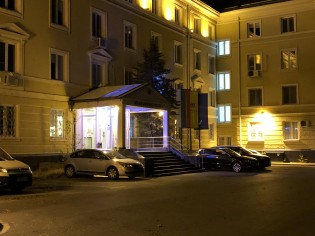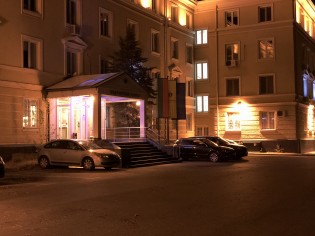 Apple iPhone X low-light shots: Wide-angle camera • Telephoto camera
Look at the texture of the wall, the metal bars on the windows, the sharp lines of the stairs, the foliage to the side. The extra noise was to be expect with the higher ISO used by the tele camera (250 vs. 100). But it also used a shorter exposure, 1/8s vs. 1/4s, which is better for moving objects.
The white balance of the image is an issue, though, with a strange red tint. But that shouldn't be too hard to fix.
Enabling the telephoto camera in the dark should be an easy software change for Apple. It's not hard to imagine that the team meant to do that but ran out of time before the launch, there's more than one story of iPhone X's troubled production. Unless this was an intentional move, but we have to admit we don't see the benefit of it.
g
you only have to look at sales and profit gains over the past quarter, and with the ridiculous cost of the iphone X their bank balances will continue to skyrocket, people who buy apple products will buy regardless of whats under the hood and the pric...
D
a simple "software update" would fix this... plus their are "third party" camera apps that already do this..
D
Wow. GSMAreana, I really respect you for the effort and thoughts you put into your precious work. Could you share how you tricked the cam so it would shoot in the night? Just curious.. best regards ether way :)