If you've been waiting for the promised iPhone 4 jailbreak, you'll be glad to hear that the waiting is now over. You can jailbreak your precious phone straight away. iPhone 3G, 3GS, iPod touch and iPad are welcome to join the party as well.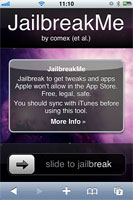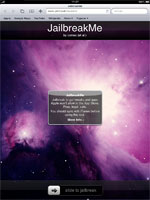 JailbreakMe is both iPhone's and iPad's best new friend
Jailbreaking the iPhone has never been so easy. Well, almost never, we've seen JailbreakMe.com in action before, haven't we? You only need to visit JailbreakMe 2 webpage using your device's Safari browser and follow the instructions (read "slide to jailbreak"). Now, you're a few moments away from jailbreaking your iThingy.
Keep in mind that due to the increased number of users servers may be overloaded. In this case use this link. Just for safety, sync your iDevice to iTunes before you get on to it, so you have a recent backup in case situation head south.
And one more thing: according to numerous user supports, the MMS app and FaceTime stop working properly (or at all) once you jailbreak your iPhone 4. As for jailbroken iPads with iOS 3.2.1, those have some issues as well. However, those can be fixed (see how).
By the way, this jailbreaking method won't work if your device is running the iOS 4.1 beta. Sorry!
?
************ hi guys i have a iphone4 and it got updated to os 4.0.2 and now its locked can any one help me. *************
g
its not working on my ipod touch 2nd gen 4.0.2 =( pls help me!
k
the jailbreakme izit only for simfree iphone or software unlock iphone one ??/ can u answer that question for me ??
ADVERTISEMENTS