Land Rover is a brand mostly popular with its 4WD vehicles that tend to go places unreachable by ordinary cars. Inspired by this idea, Bullitt Group, more famous with the CAT phones, bought the name rights from Jaguar for the latest phone, called Land Rover Explore.
Already introduced at ISPO - an outdoor and sports trade show in Munich, we got our hands on the phone at the company's booth in Barcelona, part of MWC 2018.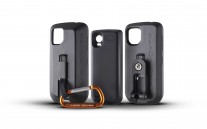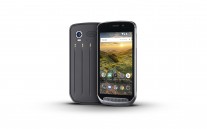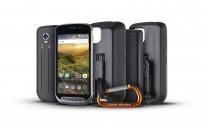 Official press images of Land Rover Explore
The Land Rover Explore sounds premium and even might fool some people that it is indeed a premium device by its design elements, inspired by the design of the actual Land Rover cars. The screen is just 5", with an LCD panel and Full HD resolution. The back panel is grooved with magnetic strips to attach the Adventure Pack.
Bullitt says the grooves are commemorating some design features of the jeeps, but they also have a practical use - the ridges have a metal pin in the end to attach the Adventure Pack. The unimpressive color of the Explore is the most popular used by Land Rover, although this sounds more like an excuse to make a gray phone.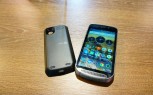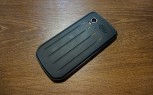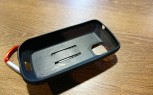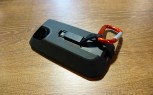 Land Rover Explore in flesh and blood (kind of)
The pack itself contains extended battery and case with carabiner. The power cell has LED lights and a button to show how much charge is left. There are actually two variants of the extension - one with 3,620 mAh and GPS antenna and another one that lacks the positioning hardware and comes with 4,370 mAh charge that can be purchased separately.
Getting back to the Explore, we see an Android Nougat OS, and we were promised Oreo is scheduled for later. There is a Helio X27 chipset on the inside has deca-core CPU, clocked at 2.6 GHz and is coupled with 4 GB RAM and 64 GB storage. These specs automatically put the phone ahead of the CAT rugged versions, but better put on a hat so you can hold on to something - the price is £599/€649.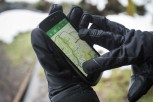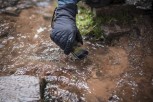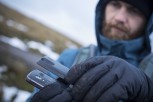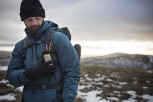 Official promo images of the Land Rover Explore
The appearance of the Explore suggests a metal rim, but it is plastic from all sides. At least it is IP68 compliant for all the muddy and rainy days you'll have in the mountains. The screen is protected by Gorilla Glass 5 and an additional screen protector that might lead to troubles in more extreme environments. But if you don't want to drop and break it, just use the carabiner.
The OS is a bit modified and comes with preloaded apps, including ViewRanger. It has pre-downloaded topographic maps and gives you the surrounding area in AR for better orientation on the hills with names of famous peaks around you. It also has its own app store for hiking, climbing, skiing and geocaching apps.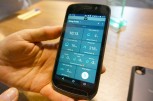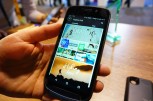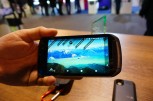 User interface made for off-road lovers
The Land Rover Explore is built like a tank - to endure all challenges. It also looks and costs like one, but you can't put a price on safety once you are left to your own devices in the wilderness. Information on availability is yet to arrive, but Bullitt is looking for early adopters on the official website of the phone.
The Explore is an exceptional phone for a very specific audience, so if you see yourself as a part of it, we suggest to join the party.
D
Looks more like the Galaxy Nexus i had a few years back, before switching to the nexus 5. It's absurdly similiar
D
And like actual Land Rovers, it will be NOTORIOUSLY UNRELIABLE and leave you stranded when you, err, Explore. Sorry, I just had to. The name gave it away. There'll be a leak in the seals and what you thought was a water-resistant phone will be a...
D
Beautiful. It's like the Nexus 4 was made of plastic.