Two Dell roadmaps – one for smartphones, and one for tablets - leaked today, showing all the company has planned to launch in 2011. The leak is quite substantial covering all of Dell's Android and Windows devices planned for up until Q1 of 2012.
WPCentral and Android Central have been sent the roadmaps as what appears to be leaked slides from a confidential Dell document. It's interesting that the leaks mention operating systems versions that hasn't been even announced yet such as Windows 8 and Android Ice Cream.
Dell's planned smartphones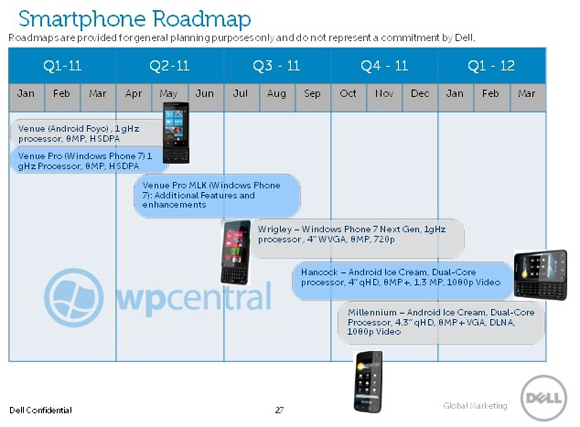 Dell has epic plans for their smartphone lineup. First in the pack is the Dell Wrigley - a Windows Phone 7 "Next Gen" device coming late July or mid-August 2011. The "Next-Gen" part could mean an updated version of the Windows Phone 7 OS, who knows. The smartphone will be powered by a 1Ghz processor and will pack a 4-inch touchscreen with a WVGA resolution and will have an 8MP camera capable of 720p video recording.
Next, a month later, in September, the more intriguing Dell Hancock will appear. It's a QWERTY slider, which will (hopefully) be as powerful as the superhero in the original movie. It's going to run the newest version of Android, called Ice Cream (no Sandwich?), powered by a dual-core processor. The Hancock should sport a 4-inch touchscreen but with a qHD resolution, a 1.3 MP front-facing camera and an 8MP back-facing camera, which can record full HD 1080p videos.
Moving further on in the timeline comes the Dell Millennium. This Android Ice Cream running slate shares some of the specs with the Hancock – it's planned with a dual-core CPU and the same camera setup. The Millennium, however, has a larger 4.3-inch touchscreen with qHD resolution and DLNA support and is expected for October-November release this year.
Dell's planned tablet lineup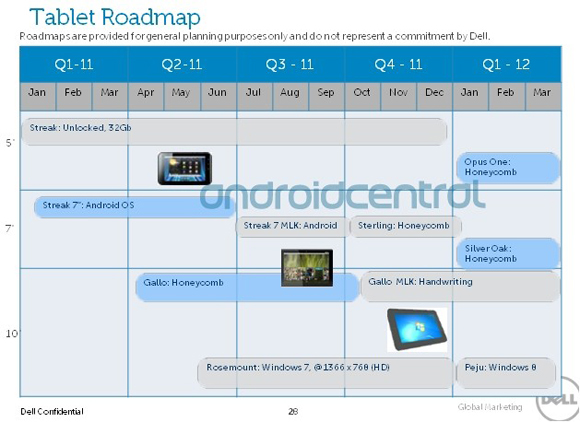 Dell won't take long to join the tablet wars with full force. The 10-inch Streak tablet in the existing Dell army will be joined by the Dell Sterling, Gallo, Rosemount, Opus One, Silver Oak and Peju.
Details on all these slates are pretty thin, with information just about the OS's of the tablets available. But oh, boy, are those exciting or what!
The Dell Peju, planned for early Q1 2012 launch, is going to run Windows 8! At this years Consumer Electronics Show in January Microsoft announced that their future versions of Windows will support ARM based mobile devices too. So far we haven;t heard of an actual release schedule for Windows 8 though.
The Gallo (April 2011), Sterling (October 2011), Opus One and Silver Oak tablets will run Honeycomb, which could mean that Google will stay with the name Honeycomb for all it's future tablet OS version of Android, but that's highly unlikely considering the past of the Android OS version names.
The Dell Gallo is going to be a 10.1-inch slate and is coming first in April 2011. It's followed by the Dell Sterling, which will have a 7-inch touchscreen and is planned for Q4 this year. The 5-inch Dell Opus is coming in the first quarter of 2012 along with the 7-inch Dell Silver Oak and the 10-inch Peju, running Windows 8.
m
Tunes lovers can listen to their favorite tunes anywhere with Amazon Cloud Player. Amazon offers the first five megabytes of tunes storage free, plus other incentives it hopes lures customers away from iTunes. While Google and Apple negotiate with re...
S
I previously used the Qteq 9100, HTC TyTn II, Omnia B7610 and currently the HTC Desire Z. The Dell Hancock is surely going to be my next phone, IF is had an AMOLED (or a more powerefficient) display. Already available in September? Promise?
ADVERTISEMENTS