Leaked iPhone SE (2020) video ad is all about peeling off the protective film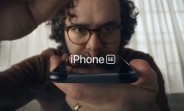 Apple's biggest launch in a while is its smallest (and least fresh, design-wise) smartphone in a while. We're talking about the iPhone SE (2020), of course, which is already having stock issues in the US.
Its popularity isn't very surprising considering its price (especially compared to other iPhones), and while Apple released a promo video for it on the day of the announcement, we now have an upcoming video ad for you to watch. This hasn't yet been officially posted to any of Apple's accounts, but that's probably going to happen soon.
It seems to be an ad made by Apple in partnership with O2, either for the UK or Germany (or both markets). It's quite weird, in that it focuses on the sound that peeling the protective film off the screen makes. And how satisfying it is just to take it off.
It's also interesting that there isn't one full-frontal shot of the device in this ad, which will supposedly run on TV. Is it the bezels, are they to blame? Could Apple be slightly shy about showing off bezels that huge in 2020? We'll never know.
J
Where is the "I'll never buy an apple piece of crap." option in the poll?
?
Security updates are not about user interaction, every device can be hacked (even iphones) if the user is dumb enough
H
I just need a decent communicator to text, quickly view emails and just talk. I also have to carry for work an iPad Mini 5, a rugged Samsung Galaxy Active Tab 2 which I can respond to emails, view docs or Excel and view media when I need to. I do...
ADVERTISEMENTS