Introduction
Lenovo came to the Mobile World Congress 2014 floor with a portable 10-inch Yoga and three smartphones under the S line. The S860, S850 and S660 come with brushed aluminum, polycarbonate and glass-like plastics, big displays and MediaTek processors.
The Yoga 10 HD+ offers 1920 x 1200px resolution on a 10" diagonal and is powered by a quad-core 1.6GHz Snapdragon 400 processor on 2GB of RAM. It also has an optional keyboard dock, which doubles as a snap-on case.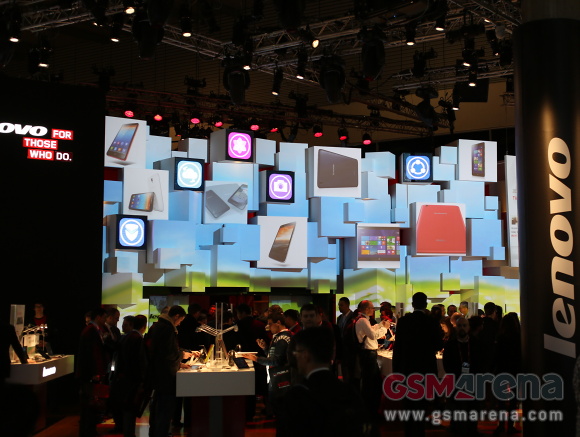 The S line of smartphones is all about affordability, big screens and MediaTek chipsets.
The Lenovo S860 uses a quad-core 1.3GHz processor and has the biggest screen at 5.3". It uses an IPS panel of 1280 x 720px resolution, which works out to a pixel density of 277 ppi. There's an 8MP camera on the back and a 1.6MP one on the front.
The battery is an impressive 4,000mAh unit that can even charge external devices.
The Lenovo S850 is thinner and lighter and has a glass-like plastic body. It has a 12MP snapper on the back and a 5MP front-facer. The screen here is a 5" panel of the same 720p resolution, only this time it results in a pixel density of 293 ppi. The MediaTek chip has four cores, running at 1.3 GHz each.
The Lenovo S660 has the smallest display at 4.7" and uses a lower qHD (540 x 960px) resolution - this results in the lowest density here - 234 ppi. The processor is, again, a 1.3GHz quad-core unit with 1GB of RAM.
Follow us next page for our Lenovo hands-ons.
p
Why can't upgrade my lenovo s850 please help
?
S860; using for 3 month. Good midrange phone, awosome speaker, not bad display, great battery, average performance, nice camera, may hang for some time, low range capacity, above average
o
Hi myS860 won't connect to 3g How do I fix.