LG G7 Fit
LG sees this model as a bridge between pricey flagships and mid-range models. It combines flagship-level ruggedness, screen and audio with some cost-cutting measures like using an older chipset.
The front of the LG G7 Fit looks identical to the ThinQ and One models, but the back differs from both. Yes, there's still a single camera on the back and also a single LED flash. It's a minor difference, though, you need a keen eye to see it.
The 6.1" screen uses the same Super Bright Display tech as the other G7 versions. You even get a manual Outdoor Boost on this one. Anyway, the display is also slightly larger than the G6 screen while offering the same HDR10/Dolby Vision goodies (Always On Display too).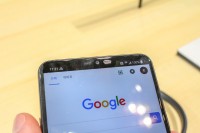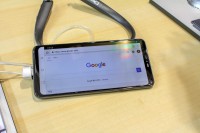 A notched screen (but there's an option to hide it)
The selfie camera - which sits right in the middle of the notch - is better too, an 8MP sensor with f/1.9 aperture. Quite the upgrade over G6's 5MP f/2.2 cam. We'll cover the rear camera in a minute. For now, let's focus on the good stuff.
The 3.5mm audio jack is once again joined by its QuadDAC and DTS:X friends. There's FM radio too, good on LG for offering its users more options than online streaming. Don't forget about the Boombox speaker too - it really sounds better than tinny stereo speakers.
Unfortunately, the body of the LG G7 Fit felt plasticy in our hands. It's as rugged as the other two - IP68 and MIL-STD-810G compliant - but it just lacks a premium feel.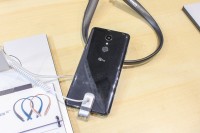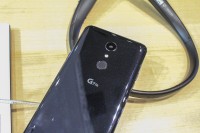 We can't say we're fans of the sparkly finish
The Fit runs LG UX, but some features are still pure Google. All three G7 models have a dedicated Google Assistant button on the side. A 'lite' version of AI Cam is on board.
While RAM is capped at 4GB again, this one actually has a version with 64GB storage (in addition to the 32GB base). That won't be available in all regions, but it's better than nothing.
The chipset is a mixed bag. The CPU side (quad first generation Kryo) is not as fast as the Snapdragon 710 chipset while the GPU has a slight advantage (though it's better suited for 1080p gaming, not QHD).