The LG G7 ThinQ and V50 ThinQ locked to T-Mobile and Verizon's networks, respectively, are receiving the Android 10 update.
T-Mobile hasn't announced the rollout of Android 10 for G7 ThinQ on its website at the time of writing this, but owners have reported getting the latest Android version.
A screenshot posted by a user reveals the new firmware requires a download of around 1.4GB, but it doesn't include a changelog of what exactly the new build brings.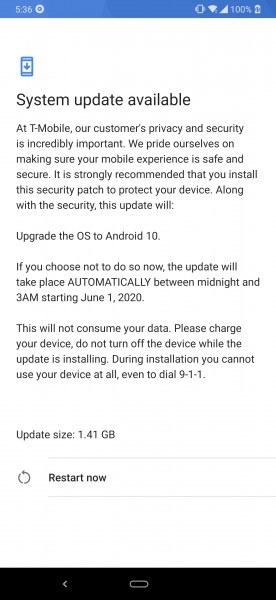 Verizon, on the other hand, has shared a changelog of Android 10 for V50 ThinQ on its website. It's listed as a part of System Update 7 and reveals the software has version G450VM20c and comes with April 2020 Android security patch along with Night Mode, Navigation Gestures, and more. You can head over to the second source link at the end of this article for all the details.
The Android 10 updates for both G7 ThinQ and V50 ThinQ are rolling out over the air and should arrive on your units in a few days.
?
You can generally get updates on LG bridge if there isn't OTA updates
P
When I will get it? G710EM european version
M
At least they give updates... Cant say that about other brands. Havent recieved it on my G7 yet, but I have a Europian version. You could pick up the G7 for half the price 6 months after launch, so don't complain about the pricing being to high ...