Organizer and apps
The organizer and the standard applications are a pretty basic package too.
The calendar offers daily and monthly view modes only. Naturally alarms can also be set up to remind you of the event at a given time.
There is a Memos app as well as an alarm and world clock, a calculator, a voice recorder, stopwatch and unit converter. We can't say anything special about them - all use a basic and simple interface to do their job.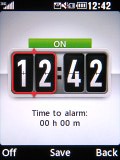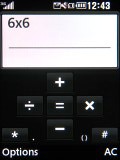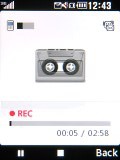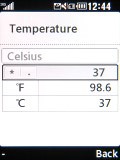 Alarms • Calculator • Voice recorder • Unit converter
Also on board there is a preinstalled document viewer, which handles office files just fine. With its help you can view Word, Excel, PowerPoint and PDF files.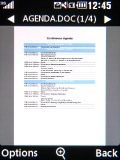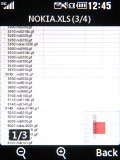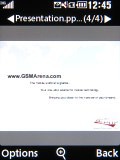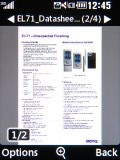 A document viewer is also preinstalled
And finally, we also found Google Maps, the Topolon and the Mini Game Planet games as well as a couple of demo games. There is no GPS on board so the use of GMaps is limited.
Final words
The LG GD550 Pure believes there's no way to take simplicity too far. Everything about this phone – the styling, user interface, features – boils down to a single word: simple. It must've sounded really good on paper and perhaps that's what gave the GD550 Pure a green light for production. And it works – it's beautiful and simple to use, a stylish phone that's suitable for everyone.
It's no LG Secret, let alone a Crystal or a Chocolate. No thanks, no fancy stuff. Come to think of it, even the 5 megapixel still imaging and D1 video might seem somewhat out of place. But you don't have to worry too much – it's almost as if they're not there. Seriously, imaging is one of the phone's big failures.
On the other hand, it's probably what pumps the price up. At about 200 euros, the LG GD550 Pure does come across as overpriced. Maybe it's overpriced for what it offers – but not who it offers it too. Grownup users looking for a mature unfussy handset that's good at the basics may find the price acceptable.
Let's look at the alternatives. The Sony Ericsson Hazel costs the same but has a bigger and better screen, much more capable user interface and plenty of premium features: Wi-Fi, GPS, accelerometer, etc.
For a bit less, the Symbian-powered Nokia 6700 slide will give you everything you may want in a smartphone, and an excellent camera to boot. The Sony Ericsson Zylo has nearly the same features as the GD550 Pure but the magic W (it's a Walkman) will attract a different audience.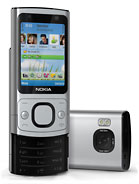 Nokia 6700 slide • Sony Ericsson Zylo
The year-old LG BL20 New Chocolate is an unavoidable comparison. The touch-sensitive controls and elaborate UI aside, it's essentially the same phone. Only it's very much aimed at a completely different crowd – the suave and the style-conscious.
Probably the biggest competition for the right target audience is something like the Nokia 6600i slide. For those who value aesthetics, simplicity and subtlety in equal measure, there isn't much choice on today's market dominated by touchscreens and overblown specs.
OK, we'll say it: the older you are, the more likely it is you'll appreciate the LG GD550 Pure. It's an easy phone to like but not one to rave about. It's not a geek's phone by any stretch of the imagination, but it is a phone a geek's mother might like and that's not a bad thing.